Dir: Greg Mottola. US. 2016. 100mins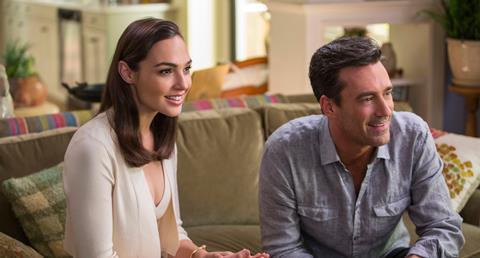 Keeping Up with the Jonses may have twice the talent of other outings in the spy-couple sub-genre – Jon Hamm and Gal Gadot play the husband-and-wife spooks, Zach Galifianakis and Isla Fisher their bumbling foils – but its laugh quotient is pretty low. And that's a real problem for a romantic action comedy that's always going more for humour, with a touch of sweet-natured romance, than thrills.
Once the mystery is solved and the two couples join forces, however, the film seems to lose direction
Originally set for a spring launch that might have better suited its undemanding tone, the Fox release arrives in the US and the UK on October 21, as counter programming to pre-Halloween horror and early award season contenders. Without the global star power of spy romps like Brangelina's Mr & Mrs Smith and Cruise-Cameron's Knight and Day, however, getting attention at the box office won't be an easy mission.
Galifianakis (most recently seen in Masterminds) and Fisher (from the upcoming Nocturnal Animals) anchor the story as Jeff and Karen Gaffney, a cosy, slightly bored suburban couple trying to adjust to their first summer without the kids at home. Hamm (in his first significant big screen role since the end of Mad Men) and Gadot (introduced as the new Wonder Woman in this year's Batman v Superman) are the Gaffney's sophisticated, gorgeous and mysterious new cul-de-sac neighbours Tim and Natalie Jones.
The action follows the Gaffneys' attempts first to befriend the Joneses – Jeff and Tim's bromantic date in a dodgy Chinese restaurant is a fun sequence – and then to uncover their real identities as covert operatives for the CIA.
Once the mystery is solved and the two couples join forces, however, the film seems to lose direction. Scenes with Patton Oswalt (from TV's Veep) as an insecure villain called Bruce Springstein (pronounced 'Spring-stine') mostly misfire, and the action finale delivers little in the way of thrills. All that's left after that is for the two couples to exchange the obligatory life lessons about the value of sincerity and the need to be open to adventure.
The script by Michael LeSieur (You, Me, and Dupree) provides very little for the cast to build on and even with comedy dab hand Greg Mottola (Superbad and Adventureland) directing the film often feels flat when it should be light-footed.
Doing a variation on his familiar deadpan act, Galifianakis produces most of the mildly funny moments as the clueless yet well meaning Jeff. But (as is often the case in his big screen appearances) he's too reined in by the family-friendly context – the film goes out with a PG-13 rating in the US – to be really effective and spark the film into life.
Production companies: Fox 2000 Pictures, Image Nation
Worldwide distribution: 20th Century Fox
Producers: Laurie Macdonald, Walter F Parkes
Executive producers: Timothy M Bourne, Marc Resteghini
Screenplay: Michael LeSieur
Director of photography: Andrew Dunn
Production designer: Mark Ricker
Editor: David Rennie
Costume designer: Ruth Carter
Music: Jake Monaco
Website: www.foxmovies.com/movies/keeping-up-with-the-joneses
Main cast: Zach Galifianakis, Isla Fisher, Jon Hamm, Gal Gadot, Matt Walsh, Maribeth Monroe, Patton Oswalt