Dir: Ermek Tursunov. Kazakhstan. 2009. 84 mins.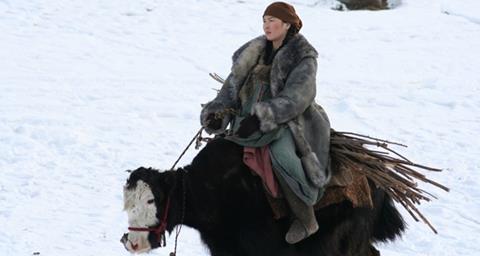 Kazakhstan's entry to the foreign language Oscar is a wordless tale of desire and violence set in the remote Altai mountains in the fourth century AD which echoes contemporary stories of nomadic life such as Tuya's Marriage, Cave Of The Yellow Dog, Tengri – Blue Heavens and last year's widely loved Kazakh film Tulpan.
Women, the film suggests, hold the world's power
Although beautifully shot and infused with frank sexuality, there is nothing much new here to differentiate it in the arthouse marketplace and Kelin is unlikely to replicate the success of Tulpan, which laced its longing with charm and humour.
The film had its international premiere at Toronto recently and will be a popular film festival title for its unusual location and the novel fact that not a word is spoken. The Oscar selection can only give it extra profile.
Gulshurat Zhubayeva plays the eponymous Kelin, married off against her will at the film's outset to a shepherd (Nurymbet). Her true love, Mergyen (Kystykbayev), is unable to afford her.
Mergyen takes a blood oath, vouching that he will win Kelin back, but in the meantime she travels to her new husband's yurt where they are to live with her mother-in-law (Turakhan Sadykova) and younger brother-in-law (Turganbaev).
After an initially brutal start, Kelin learns to enjoy sex with her new husband, even though her new relatives can hear her every moan of pleasure in the yurt, but her situation is thrown back into turmoil once Mergyen returns to claim her.
The film becomes a women's story as Kelin faces off against her mother-in-law, an old hag with mystical connections to nature. Women, the film suggests, hold the world's power.
The fact that none of the characters speak works for much of the film, although it feels forced as they become more confrontational.

Production company
Helix Films

International sales
Cinema Management Group
+ 1 310 300 9959

Producer
Yermek Amanshayev

Screenplay
Aktan Aryn Kubat
Ermek Tursunov

Cinematography
Murat Aliyev

Production designer
Alexandr Rorokin

Editor
Svetlana Niyazova

Music
Edil Kussainov

Main cast
Gulshurat Zhubayeva
Turakhan Sadykova
Yerzhan Nurymbet
Kuandyk Kystykbayev
Nurzhan Turganbayev