Dir. Fatima Geza Abdollahyan, Germany, 82 minutes, 2009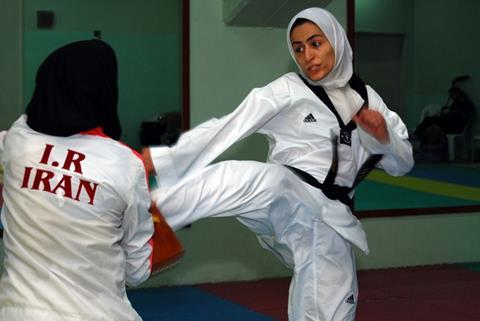 Kick in Iran is the portrait of 20-year-old taekwando athlete Sara Koshjamal-Fekri, the first Iranian woman to qualify for the Olympics. The martial artist kicked and punched her way to Beijing in 2008, but Iran's "Million Dollar Baby" still endures institutional inferiority for women (even sportswomen) at home
The documentary's novel subject and appealingly confident star should help German-born director Fatima Geza Abdollahyan's debut feature thrive on the festival circuit, and then on television. Cable sports channels could broaden the audience, with help from the news spotlight focusing on the current turmoil engulfing Iran.
Shot in the women's gym in Koshjamal-Fekri's home, and on the streets of Baghdad before the crescendo in Beijing, the film examines a paradox. Abdollahyan shows the athlete as a rare success in the phallocratic theocracy, yet government strictures (and even the sports bureaucracies) obstruct her way at every turn. Religious broadcasters call women athletes "prostitutes."
Visual textures from DP Jakobine Motz range from ordinary fly-on-the-wall video observing realms where few men venture, to often-elegant sequences of hijab-clad women running in groups and screeching as they kick and punch. The documentary (the director's graduation film) tends to go for content rather than style, but the payoff is entry into the segregated subculture of women's sports in a country ruled by men.
In Kick In Iran's best moments, Koshjamal-Fekri fights like angry bird, punctuating sudden kicks with piercingly shrill cries. It's nothing short of cold determination, yet her hard tough face can break into an enchantingly warm smile, ensuring that you won't take your eyes away.
To sign up for Screen's weekly Reviews Newsletter with all the week's new releases, international openings and full festival reviews delivered free to your mailbox every Friday, please click HERE
Production Companies
Brave New Work Film Productions GmbH
Bayerischer Rundfunk
Westdeutscher Rundfunk
International Sales
Telepool
+49 (0) 89 55 876 210
Producers
Mohammad Farokhmanesh
Frank Geiger
Armin Hofmann
Cinematography
Jakobine Motz
Editor
Katja Hahn
Music
Saam Schlamminger
Sound
Mehrdad Akbarzahdeh