For his feature debut, veteran animator Mariusz Wilczynski presents a deeply personal look at his own life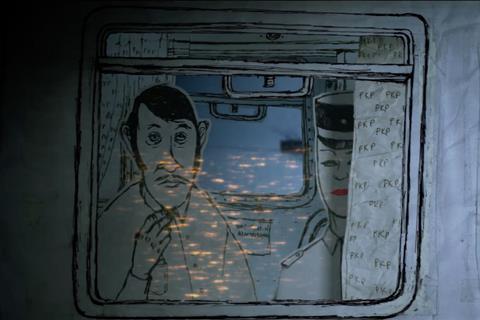 Dir/scr. Mariusz Wilczynski. Poland. 2020. 88mins
Via scratchy pen strokes on crumpled paper backgrounds, this surreal and striking animation sees Mariusz Wilczynski revives the memories of his lost loved ones and revisits his childhood experiences in 1960s and 1970s-era Poland. Making his feature-length debut, the veteran animator wanders through his own grieving mind, crafting a film so personal and handmade that it almost bears fingerprints. That rough, raw aesthetic can be both mesmerising and jarring — this is a work of entrancing low-fi artistry and deeply felt emotion, but becoming immersed in its stream-of-consciousness fragments isn't always easy.
In its most poignant, resonant moments, the film feels both devastatingly personal and affectingly revelatory
Of course, stepping inside someone else's head in such an unfiltered and melancholy fashion is never simple, especially when they're openly processing the death of their parents. From the nightmarish red cigarette glow that starts the Lodz-set film to the sea of dancing fish heads that follow, Kill It and Leave This Town feels as if it has been exorcised direct from Wilczynski's mourning subconscious and scribbled hurriedly across scraps of paper. That makes it a perfect candidate for the Berlinale's new Encounters strand, which focuses on "aesthetically and structurally daring" films, as well as for further festivals eager for experimental yet intimate animated works.
Kill It and Leave This Town may look like a movie sketched briskly and feverishly, but it has taken more than a decade to come to fruition — as evidenced in the carefully layered minutiae it splashes across the screen. Inky drawings stress the space between Wilczynski and his mother on the latter's hospital deathbed, his distracted apathy contrasting with her yearning to connect in stark back and white. A morgue worker prepares the corpse for burial, stitching and plugging its orifices as she natters about her own problems. At the local fishmongers, where the clerk pays callous little regard to her customers, the flesh on the shelves transforms from seafood to human.
These scenes float through the film in fits and spurts, connected as much by Wilczynski's emotional state as the movie's scant narrative. The writer/director links the dreamlike vignettes through his parents, with his mother's passing sparking an avalanche of ever-morphing recollections and fantasies — usually as his animated likeness, with its shock of crudely drawn curls, looms large in the frame.
In its most poignant, resonant moments, the film feels both devastatingly personal and affectingly revelatory: a simultaneously forceful and tender piece of existential contemplation that's intricately tied to Wilczynski's life but still universal in its themes. But when it meanders, which is perhaps more often than it should, it requires serious commitment from its audience.
Embracing its purposefully rough and rushed look, the film never fails to impress visually, resembling the art of David Lynch in its industrial style, brusque tone and curt humour. Expressive voice work always conjures up the right sentiment, including a cameo from the late Andrzej Wajda as a man on a train — with Tadeusz Nalepa's music another posthumous contribution.
Production company: Bombonierka
Sales: Outsider Pictures, paul@outsiderpictures.us
Producers: Ewa Puszczynska, Agnieszka Scibior
Art direction: Mariusz Wilczynski
Editing: Jaroslaw Barzan
Music: Tadeusz Nalepa
Voice cast: Mariusz Wilczyński, Barbara Krafftówna, Anna Dymna, Marek Kondrat, Gustaw Holoubek, Małgorzata Kożuchowska, Maja Ostaszewska, Andrzej Chyra, Krystyna Janda