Dir. Owen Harris. UK, 2015, 102 mins.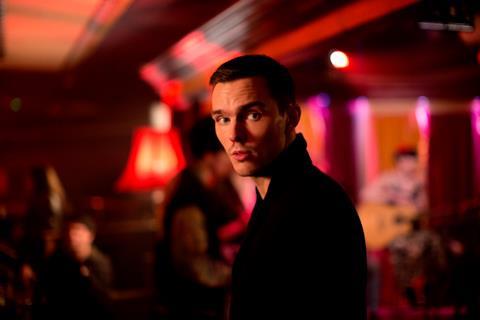 All sense of the British music industry being a giant yellow submarine full of playful moptop Beatles is well and truly laid to rest with Kill Your Friends, screenwriter John Niven's adaptation of his own cult novel about the morally bankrupt biz, although 'Help!' is an appropriate response to an encounter with his relentlessly cynical and remorselessly black-hearted protagonist, A&R man Steven Stelfox (Nicholas Hoult). At its best, Niven's savvy tale of a business he clearly loathes aims for the inky-bleak humour of Withnail overlaid with the insider-takedown tones of Robert Altman's The Player, or How To Get Ahead in Advertising, although he and first-time director Owen Harris struggle to turn this smattering of ingredients into a film that consistently engages.
Harris's film is clearly pitching for cult status , and the project's 'insider' aura should help market it into niche theatrical returns
Scarface-levels of cocaine consumption date Kill Your Friends to the 1990s heyday of Britpop (as an A&R talent-spotter, Niven famously turned down the chance to sign Coldplay). Stylistically, its dark-edged patina – daylight full of glaring steel, a night-time of clubs and drugs and strobes and violence – drenches the viewer with its glassy nihilism but also couples Kill Your Friends to the empty world of American Psycho,
For a film about the music business, it's interesting that Kill Your Friends sticks so faithfully to one note throughout; it's as if Niven fears any glimpse of humanity might risk the project's integrity, but the lack of human empathy ultimately becomes this project's biggest handicap. T
Kill Your Friends fields a few comic gems, though; the rise of a girl band (managed by Transporter's Ed Skrein) and the selling of Moritz Bleibtrau's Euro-packaged dance hit Suck My Dick during the MIDEM convention in Cannes are particularly mischievous and laugh-out-loud funny. The cast is knowingly cool, from Hoult on through to James Corden, Joseph Mawle, Georgia King and Craig Roberts. Harris's film is clearly pitching for cult status , and the project's 'insider' aura should help market it into niche theatrical returns before setting down into home viewing in the UK, although it may struggle internationally. The soundtrack, as to be expected, is bristling.
Breaking the third wall throughout and speaking directly to camera, Hoult plays the ruthlessly ambitious Steven Selfox, an A&R – artists and repertoire – talent-spotter at Unigram records, where he works under division head 'Roger Waters', played entertainingly as a shambling, clueless coke fiend by James Corden. Not particularly talented himself but certainly ambitious, Steven's loathing for Roger, literally, knows no bounds. He's a pure-blooded misanthrope, surrounded by men and women who also have a similarly toxic cocktail of drugs and ambition running through their veins in the music industry shark-tank. (Typical of Selfox's bleakly sardonic narration is the declaration that a track is "the biggest insult to humanity since a room full of Nazis chuckled over the blueprints for Auschwitz").
With the coked-up artist Rage (Osy Ikhile) about to self-combust to the label's enormous cost, there's a race on to sign the new hottest ticket, a band called The Lazies (led by Frida Sundemo),. Selfox dispenses with Roger, only to find himself with a new, equally Machiavellian boss. "How far are you willing to go?" is the question, and Niven/Harris establish early on that Steven Selfox is certainly ready to go the distance.
Georgia King has a nice part as Steven's put-upon assistant with a mind and ambition of her own, and Craig Roberts turns up as the A&R junior, with Steve Piddock good as the label's head, Derek, and Edward Hogg playing a music-loving copper sent in to investigate Roger's sudden disappearance. There's a point where Kill Your Friends tips over from a sarkily distanced-cynicism into undisguised anger, which is its true underlying colour, but that's towards the end of this nicely-edited film. Nicholas Hoult effortlessly steps up to leading man status; he's young enough to be right in the role, but there's still a depth to Selfox's fresh-faced duplicity which is eminently watchable.
Production companies: Unigram, Altitude Film Entertainment
International sales: Altitude Film Sales, info@altitudefilment.com
Producers: Len Blavatnik, Gregor Cameron, Will Clarke
Screenplay: John Niven, based on his own novel
Cinematography: Gustav Danielsson
Editor: Bill Smedley
Music: Junkie XL aka Tom Holkenburg
Main cast: Nicholas Hoult, Tom Riley, Georgia King, Craig Roberts, Joseph Mawle, James Corden, Ed Hogg, Ed Skrein, Osy Ikhele, Moritz Bleibtrau, Rosanna Arquette, Jim Piddock