Dir/scr: Attila Till, Hungary. 2016. 105 mins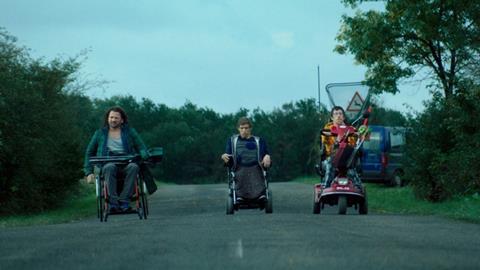 Kills On Wheels (Tiszta Szivvel) has the kind of premise that might have tickled Quentin Tarantino in his formative video store years or inspired Roger Corman in his 1960s pomp. The latest feature from Panic (2008) and Beast (2011) director Attila Till revolves around a wheelchair-bound former fire fighter who works as a hit man for hire.
A film that initially offers guilty pleasure thrills ultimately reveals its softer, more sentimental side
Despite the black comedy and bloodshed, Kills On Wheels is largely sensitive rather than sensational. Till uses the B-movie elements as window dressing for a film that focuses more on the bonds of friendship, the longing for a sense of family and the challenges of disability. The result is a likeable, offbeat mixture of reality and fantasy with strong performances and a satisfying eleventh hour twist that brings everything into sharp focus.
Wider festival exposure seems assured and there is theatrical potential for adventurous European arthouse distributors. It is also worth noting that this is the first project for producer Judit Stalter since Son Of Saul.
Former fireman Raspuzhov (Szabolcs Thuroczy) has spent three years in a wheelchair after an injury at work. A hard-drinking, tough guy with anger management issues, he has lost little of his appetite for life or confrontation. Released from a prison sentence and about to embark on rehabilitation, he meets disabled youngster Zolika (Zoltan Fenyvesi) and his best friend Barba Papa (Adam Fekete). Rapuzsov's irreverent approach to the world is just the bracing antidote the boys need to the cautious conformity of institutional life.
Kills On Wheels integrates two diverse strands of plotting. In one, Raspuzhov is the liberating force that inspires the two youngsters to taste a little of life's pleasures. He takes them to a club, joins them on a fishing trip and widens their horizons.
In the second strand, he starts to involve them in his well-paid work as a hit man for Rados (Dusan Vitanovic), a crime boss who never appears without his pack of devoted Dobermans, including one who is diabetic. Soon Zolika and Barba are acting as look-outs, driving the getaway car and have become partners in crime which goes against the grain of Rados's desire that Raspuzhov should always act alone.
The boys are given priceless material to fuel their ambitions as aspiring comic book artists. Drawings that flow from the pen of Zolika add to the film's graphic novel feel and slight echoes of recent Italian award-winner They Call Me Jeeg Robot.
Till effectively brings out the comic absurdity of a killer in a wheelchair when Raspuzhov is trapped in the home of one victim or when he faces a dumb opponent who chooses to knife him in the leg. Being paralysed from the waist down does have some advantages when it comes to his pain threshold. Raspuzhov is a figure we warm to over the course of the film and especially when he is won over by his unlikely new friends. Szabolcs Thuroczy is entirely believable as both a reckless killer and someone coping with his newfound vulnerabilities. When we learn that the love of his life is about to be married, he only becomes more sympathetic.
Till has cast disabled actors as Zolika and Barba and both give immensely appealing, confident performances. Adam Fekete has worked in the theatre but Zoltan Fenyevsi is a complete newcomer. Best known for his endlessly active life on Instagram, Fenyevsi seems a screen natural and shows a good deal of range and promise in his debut.
A film that initially offers guilty pleasure thrills ultimately reveals its softer, more sentimental side. Kills On Wheels manages to cast aside the straitjacket of political correctness and treat disability issues with humour, understanding and inventiveness. It is a film that sends the viewer out with a warm hug of an ending.
Production companies: Laokoon Filmgroup
International sales: Hungarian National Film Fund World Sales klaudia.androsovits@filmalap.hu
Producer: Judit Stalter
Cinematography: Imre Juhasz
Editor: Marton Gothar
Music: Csaba Kalotas
Cast: Szabolcs Thuroczy, Zoltan Fenyvesi, Adam Fekete