'Maverick-spirited tale of movie-obsession' starts out in a long-lost New York film institution and ends up in Sicily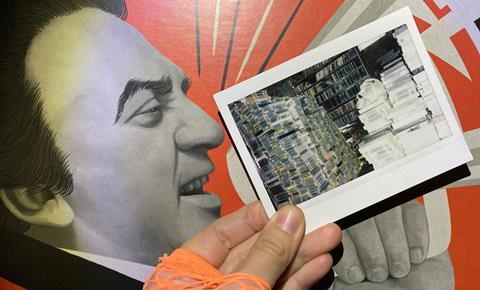 Dirs/scr: David Redmon, Ashley Sabin. US/France/UK. 2023. 88mins.
It starts as a scrappy, suitably lo-fi appreciation of a long-lost New York institution: Kim's Video, a string of movie rental stores and a treasure trove of rare films and ephemera which, by the time of its liquidation in 2008, had amassed some 55,000 titles. But the latest documentary from filmmaking duo David Redmon and Ashley Sabin soon spins off into something else: a stranger-than-fiction odyssey that takes tonal swerves inspired by genre cinema, visits to Seoul in South Korea and repeated pilgrimages to Salemi, a small town in Sicily that, in a quirk of fate, became the home to the Kim's Video archive. The unexpected humour and sheer ballsiness of Redmon and Sabin's quest make for an entertaining ride which is only slightly undermined by the overuse of clumsily crowbarred movie references.
With its fervent cineaste geek credentials, Kim's Video seems particularly suited to a well-received festival run
Redmon and Sabin have collaborated on non-fiction films taking in a wide variety of subjects, ranging from donkey communication (Do Donkeys Act?, which premiered in Rotterdam and screened in numerous festivals) to the modelling industry (Girl Model, a prize winner at the Rome Film Festival) to a Mexican family reunion (Intimidad). But with its fervent cineaste geek credentials, Kim's Video seems particularly suited to a well-received festival run. Theatrical interest is not out of the question, but perhaps a VOD or streaming release might be more in tune with the subject matter.
Kim's Video represents a quirky and highly personal style of documentary filmmaking which takes as its launching pad Redmon's unconventional family background and his intense relationship with the transgressive, experimental voices he encountered through the frequently bootlegged VHS tapes on the shelves of his favoured branch of Kim's. The film starts with him wandering the now thoroughly gentrified streets of Lower Manhattan, buttonholing passers-by and demanding directions to Kim's Video. Most of them scurry away with some degree of alarm. But the ones that know, know. By chance, he encounters another former member of the Kim's customer family, and there's a moment of shared kinship exchanged along with memories of the place.
Through interviews with customers and former store clerks (including director Alex Ross Perry, cinematographer Sean Price Williams and critics Dennis Dermody and Eric Hynes), the filmmakers piece together the fate of the collection which had been amassed by Kim's Video's mysterious owner, Yongman Kim (who started the business as a spin-off service in a dry cleaning shop). Kim had offered up the collection for free, with the condition that it was kept together. The winning bid came from the municipality of Salemi, which promised to digitise the whole collection and to make it available to any and all former Kim's members who make the trek to Sicily.
Except when Redmon shows up in Salemi, he finds the collection neglected and closed to the public. Dogged investigation and a perpetually rolling (and erratically handled) camera reveal missing funds, broken promises and the hint of mafia involvement. It even tracks down the elusive Kim, who is disheartened to learn of the fate of his collection but at a loss as to what to do about it. To reveal more about its fate would be to spoil the unexpected twist in this maverick-spirited tale of movie obsession. Suffice to say, the film is true to the ethos on which the collection was built in the first place: that film knowledge is more important than adhering to the letter of the law.
Production company: Carnivalesque Films
Contact: ashley.sabin@gmail.com
Producers: Deborah Smith, Dale Smith, Francesco Galavotti, Rebecca Tabasky, David Redmon, Ashley Sabin
Cinematography: David Redmon
Editing: David Redmon, Ashley Sabin, Marc Becker
Music: Enrico Tilotta, Matthew Dougherty, Eric Taxier