King Kong is reanimated in Jordan Vogt-Roberts' chest-thumper, a key commercial moment in the Legendary/Warner MonsterVerse franchise.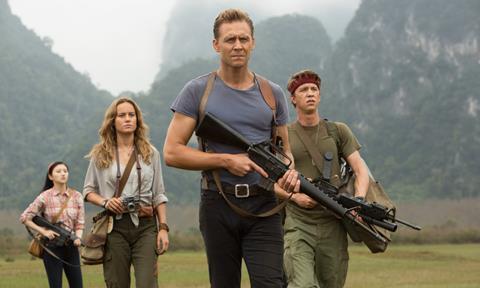 Dir. Jordan Vogt-Roberts. US, 2017, 118 mins
The clue is the word 'MonsterVerse', the planned Legendary Entertainment/Warner Bros franchise which kicked off in 2014 with the Godzilla reboot. Kong: Skull Island may star Samuel L Jackson, Tom Hiddleston and Brie Larson, but this Vietnam-set adventure is, in effect, a flimsy excuse for an Industrial Light and Magic CGI smackdown which revisits Kong's dinosaur battles from Peter Jackson's 2005 iteration and spins them out for just short of two hours..
Kong doesn't show much careeer mercy to either Samuel L. Jackson or Tom Hiddleston playing dual leads.
Director Jordan Vogt-Roberts marries a hokey retro plot with state-of-the-art technology, ripping pages out of Apocalypse Now and Platoon and planting them on the face of Jurassic Park for a 1971-set expedition undertaken by the US military and several hangers-on to Skull Island, King Kong's remote tropical home. But the feeling here is even more old-fashioned, harking back to the creature feature days of Black Lagoon, Tarantula, et al, the film's awkward humans being repeatedly thumped downstage by impressive effects.
Kong: Skull Island opens in cinemas globally from March 8 as final proof that Oscar season is well and truly over. While the unusual settings and the enhanced quality of the CGI eventually hoist King Kong and his opponents out of the tropical Vietnamese script swamp, this film will have to battle Kong fatigue domestically and focus on overseas markets to stave off the continued threat of Logan and his X-Men Universe before being potentially flattened by the Beast from Beauty the following week. Tough times for a monster to make a living.
One wonders why, in all these universes – Marvel, X-Men, Monsters – there are so few good plots to be discovered. With its cursory set-up and characterisations and over-reliance on wholly-CGI set-pieces, Kong: Skull Island will naturally skew towards younger, male audiences. And in the battleground of Kong's birthplace, Skull Island, it's the actors who come away bruised. While Brie Larson's photojournalist is a warm presence which no amount of cod-dialogue can cool, and John C. Reilly provides a reliable comedy port in this storm as a castaway, Kong doesn't show much career mercy to either Samuel L. Jackson or Tom Hiddleston playing dual leads.
Jackson is saddled with a Colonel Kurtz-like character, a battle-scarred Vietnam vet obsessed with vengeance, while Hiddleston as a Special Forces operative seems to have wandered from another film entirely, lost, perhaps, on his way to the casino. Nevertheless, both have enough star armour to emerge with their reputations intact after this story of a reconnaissance trip to Skull Island ("a place where myth and science meet!") led by John Goodman's shadowy private firm and backed by the US military.
It takes Vogt-Roberts (indie feature King of Summer) and his team scant time to introduce Kong in a prologue and move an ensemble cast through the bars of Da Nang and Saigon, onto a ship and into helicopters through a "perpetual storm system" to land on Skull island. No surprise then, that their characters are reduced to one-line descriptions in some throwaway expository dialogue, set up to be dispatched one-by-one with familiar inevitability. It is somewhat unexpected that Vogt-Williams avoids romantic interplay between Larsen and Hiddleston, but in fairness, he doesn't have much time. And audiences are there for the beasts, after all, as opposed to the beast with two backs.
On his way, the director and his team lift iconic imagery from both Platoon and in particular Apocalpyse Now. Helicopters are framed in relief against the flaming sun and soldiers make their way in formation through the jungle before getting on a makeshift PBR in an attempt to escape – because their inexplicable decision to set off explosives all over the island hasn't just irritated Kong, it has woken up the prehistoric Skullcrawlers which live under the surface. But Vogt-Williams does add some touches of his own, including some nice monster-rage sequences shot from the perspective of the victim trapped inside a helicopter cockpit.
If the film belongs to anyone, it's creature designer Carlos Huante. Kong is expressive and impressive, both in hair and full-body movement, and his interaction – with water, humans, other animals – is consistently fluid from a technological perspective, with actor Terry Notary also convincing as the beast. Even his hair, shaggy, like a wet terrier, is a notable technical scale-up. And if it belongs to a place, that's Ha Long Bay and the previously-unexplored rivers of Vietnam, although Kong: Skull Island also shot in Hawaii and Queensland, Australia. Music is on-the nose, although Vera Lynn pops up with "We'll Meet Again" at a climactic moment, to remind us there's only three years to go til Godzilla V Kong, due in 2020.
Production companies: Warner Bros. Pictures, Legendary Pictures, Tencent Pictures
International distribution: Warner Bros
Producers: Thomas Tull, Mary Parent, Jon Jashni, Alex Garcia
Executive producers: Eric McLeod, Edward Cheng
Screenplay: Dan Gilroy and Max Borenstein and Derek Connolly, story by John Gatins.
Cinematography: Larry Fong
Production design: Stefan Dechant
Editor: Richard Pearson
Music: Henry Jackman
Main cast: Tom Hiddleston, Samuel L. Jackson, John Goodman, Brie Larson, Jing Tian, Tony Kebbell, John Ortiz, Corey Hawkins, Jason Mitchell, Shea Whigham, Thomass Mann, Terry Notary, John C. Reilly