Dir. Michael Dougherty. US, 2015, 92 mins.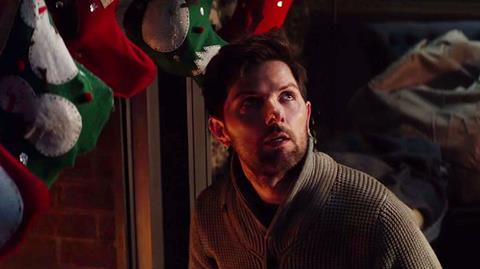 Michael Dougherty's gleefully malevolent Krampus kicks Universal out of a record-breaking year on a darkly cathartic high with a nod to the spirit of crueller yuletide yarns of the past such as A Christmas Carol. Krampus – named after Santa's horned alter ego who 'rewards' children who are naughty – is a comedy- horror in the Poltergeist home-invasion mode which should draw interest through good word-of-mouth over Christmas and is destined to become a festive staple and cultural reference.
Dougherty refuses to declare his intentions with music or jump cuts; the uneasy gags just become a little bit more hollow as Krampus's subversion begins takes hold.
Dougherty (Trick 'r Treat) balances an uneasy tone throughout – is this a sermonising comedy? Something more sinister? – in a small-scale domestic setting which gives Krampus a sense of familiarity and expectation which he's very happy to play with. Home Alone, for example, is a constant visual and thematic reference with its squabbling families who have lost sight of the spirit of Christmas. But so is Scream. Krampus lurches between both titles, enjoying the pull and push.
A lot rests on the shoulders of young Emjay Anthony (Chef), a tousle-haired child – he's clearly cute, but never cloying. He plays Max, the youngest member of a frazzled festive family, led by workaholic dad Tom (Adam Scott) and obsessively-ordered mum Sarah (Toni Collette) and benignly watched over by German granny Ommi (Krista Stadler).
Causing friction is the arrival of Max's sister Linda (Allison Tolman) and her brutish brood, including David Koechner as gun-toting Uncle Howard, their three uber-macho children and caustic gin-swilling aunt Dorothy, played by Conchata Farrell. ("It looks like Martha Stewart threw up in here," she says, surveying Sarah's elaborate Christmas decorations.)
Dougherty, however, has laid his thematic cards on the table with a delicious opening credit sequence: department store shoppers stampede and fight as Bing Crosby croons It's Beginning To Look A Lot Like Christmas, bad tempers rising to a crescendo with a Nativity punch-up. Ommi may spend her time baking gingerbread men, but she's a granny with a past who knows the flip side of "naughty and nice". (Historically, Krampus is a creature with his roots in the German Alps.)
When the extended Engel family wakes up on Christmas Eve to find out a blizzard has descended on its Home Alone house, Dougherty refuses to declare his intentions with music or jump cuts; the uneasy gags just become a little bit more hollow as Krampus's subversion takes hold.
Krampus is very much a studio-set production, and the lion's share of its budget must surely have gone to Peter Jackson's Weta effects houses (Weta Workshop and Weta Digital). Krampus, when he eventually shows his cards, is a dark delight, but this film has more to offer than a single monster – Dougherty has a few puppet side-shows, including elves, a clown which comes right out of Poltergeist's closet and some stuffed animals which are the satanic mirror images of our Toy Story friends. Ho, ho, ho, indeed.
Production companies: Legendary Pictures, Zam Pictures
Worldwide distribution: Universal Pictures
Producers: Thomas Tull, Jon Jashni, Alex Garcia, Michael Dougherty
Executive producers: Daniel M Stillman, Zach Shields.
Screenplay: Todd Casey, Michael Dougherty, Zach Shields
Cinematography: Jules O'Loughlin
Production design: Jules Cook
Editor: John Axelrad
Main cast: Adam Scott, Toni Collette, David Koechner, Allison Tolman, Conchata Ferrell, Emjay Anthony, Stefania LaVie Owen