Dir/scr. Stanley Tong. China/India, 2017, 107 mins.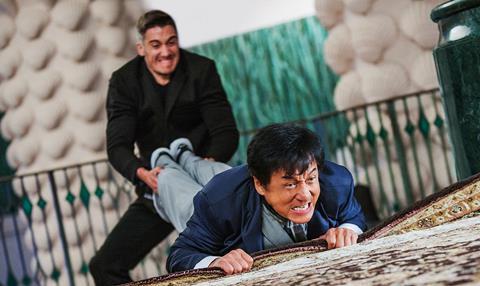 He's flexed his fighting muscles , and showed his comic side; now, in Kung Fu Yoga, Jackie Chan attempts an Indiana Jones moment. Reuniting with Rumble in the Bronx director Stanley Tong for an Indo-Chinese mash-up of martial arts and Bollywood, the Hong Kong star plays one of China's top archaeologists on a treasure hunt to locate ancient artifacts. What he discovers is a broad but fast-paced cross-cultural adventure-comedy. What audiences will find in this East-meet-East effort is equal parts culture clash, cliché and star vehicle.
Chan gives the special effects-heavy offering some much-needed zest.
The latter element should draw a crowd when the film bows in several territories from January 27 to mark Chinese New Year, including the US and China, with Hong Kong and Indian releases slated the following week. The rest of the cast — Indian actress/model Disha Patani, Bollywood star Sonu Sood, Chinese singer Lay Zhang and Hong Kong actor/singer Aarif Rahman — should increase the feature's appeal in their respective homelands, but, while it has been sold widely throughout Asia and Europe, Kung Fu Yoga's global prospects are far from assured. An amiable, average-at-best caper-like quest remains just that, even with recognisable talent, and even more so when its combination of elements is clearly stretched.
Chan plays a professor (also named Chan) who is sought out by a younger Indian counterpart, Ashmita (Patani), to recover long-lost items dating back to 647AD. She has a map, he has the smarts — and they each have the skills, as steeped in their cultures, that gives the film its title. A prelude provides some context, charting a battle between Chinese envoy Wang Xuance and Indian military leader Arunasva, as well as the intervention of the Magadha kingdom's General Bhima that helps forge an Indian-Chinese alliance. What the CGI frenzy of an introduction really does, though, is set the scene for a new cycle of kung fu and yoga-fuelled conflict and reconciliation.
No sooner has Chan followed his new colleague and her offsider Kyra (Amyra Dastur) to the Kunlun Mountains — with his two teaching assistants Xiaoguang (Zhang) and Nuomin (Miya Muqi) in tow, plus Jones (Rahman), the son of a deceased adventuring pal — then a gang encroaches on their camp. An icy ambush ensues, as well as one of the oldest reasons for combat in the book: knowledge and history versus greed and modernity. There's no prizes for guessing what the nefarious Randall (Sood) is driven by, sparking a jaunt from China to Dubai to India. Cue subterfuge, auction hijinks and piecing together ancient clues, as well as camel races, ravenous hyenas, angry snakes and a lion called Little Jackie.
More than a decade since Tong and Chan last collaborated on 2005's The Myth, which also cast the star as an archaeologist, the helmer and scribe hasn't forgotten how to best illustrate the skill and charm that first brought his lead to fame. No one watches a Chan film for the acting, nor would they, given Kung Fu Yoga's wooden but jovial display; they watch to see him do what he does best. Here, though mildly tempered by his age (62), reliable displays of flying fists and other physical feats occur at regular intervals.
Indeed, along with two well-staged centrepiece action scenes — a car chase through the streets of Dubai featuring sleek vehicles and the aforementioned lion Little Jackie, plus a foot pursuit in a busy Indian market — not to mention the closing dance number, Chan gives the special effects-heavy offering some much-needed zest.
Around him, Tong's by-the-numbers screenplay merely ticks the expected boxes, whether blending attempts at humour with the overarching adventurous spirit, or taking every opportunity possible to overtly stress the blend of cultures at its core.
Production companies: Sparkle Roll Media, Taihe Entertainment Corporation, Shinework Pictures
US distribution: Well Go USA Entertainment
Producer: Barbie Tung
Executive producers: Wei Wang, Jackie Chan, Jianhong Qi, Jonathan Shen, Sailesh Pathak
Co-executive producers: Peikang La, Ruoqing Fu, Cici Chen, Yong Zhang, Hong Qin, Jianhong Yu, Yingjian Liang
Supervising producers: Stanley Tong, Shimu Qian, Maofei Zhou, Ping Jiang, Qunfei Huang
Cinematographer: Horace Wong
Editor: Kong Chi Leung
Production designer: James Cheung
Costume designer: Phoebe Wong
Music: Nathan Wang
Cast: Jackie Chan, Disha Patani, Sonu Sood, Lay Zhang, Aarif Rahman, Amyra Dastur, Miya Muqi.