A thriller involving two half-sisters and their dead muscian father slow-burns in the oppressive Texas heat.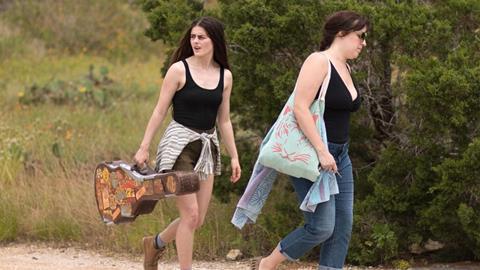 Dirs: Julia Halperin, Jason Cortlund. US, 2017. 98 mins
In the oppressive heat of a Texas summer, two half-sisters meet in the shadow of their famous father's death and attempt to forge a relationship. As painful memories are unearthed, and loyalties are tested, directing duo Julia Halperin and Jason Cortlund (2012's Now, Forager) effectively mine the fractured family dynamic for maximum dramatic impact. The film's strong central performances, beguiling aesthetic and superb soundtrack, not to mention its thriller sensibilities, should ensure continued festival momentum and audience identification with its defiant independent spirit.
A beautifully composed ballad that both celebrates and laments the passing of time and resonates long after the credits roll
The film opens with a six-minute, dialogue-free observation of a young woman (Sophie Reid) as she takes a moonight swim before packing up her bag and taking to the road, hitchiking to a big city. Finding a graveyard, she pours whiskey on a headstone marked Wayne Klein before making her way to a house and waiting on the porch for its occupants to return home.
It's only when Merle (Allison Tolman, from TV's Fargo) and fiance Raul (Luis Bordonada) arrive that we learn the woman is named Sinaloa, she's British, and she's come to Austin, Texas to find her half-sister. Sinaloa and Merle share a father in famous country musician Wayne - he of the headstone - and Sinaloa is keen to get to know her only surviving family.
While Merle is initially suspicious, Sinaloa offering no proof of her identity, Raul invites the woman not only to stay, but to attend their engagement party. As Sinaloa ingratiates herself into the family, immediately coming up against Merle's bitter-tongued mother (a deliciously vitriolic JoBeth Williams), her feisty persona and unclear motives begin to cause ripples which soon turn into tidal waves of disruption.
Reid gives a knockout breakthrough performance in her first leading role. Hard-edged, self sufficient and seemingly fearless, Sinaloa at first appears to be characteristically reminiscent of the predator fish namechecked in the film's title; which is, in fact, a reference to Wayne's 1960's Gibson guitar. As the story progresses, however, and the pain of her father's rejection begins to emerge, a sense of youthful vulnerability and unchecked rage comes to the fore. And while the extreme direction the story takes in its final reel may be outlandish in isolation, the character of Sinaloa is so richly drawn that it seems a natural, if no less shocking, denouement.
Tolman's softly-spoken Merle is the more conventional character, but her journey is no less important. Initially guarded, she begins to absorb her half-sister's reckless energy, and confront memories of a father she is seeing anew. For Merle, whose recalls a childhood through a cloud of cigarette smoke and addiction, Sinaloa's hero-worship initially proves irritating. "I wish you'd been here to see Wayne's last months," she snaps. "There was no blaze of glory."
And yet, as Sinaloa picks up Wayne's guitar and imbues his classics with a fresh energy, Merle is moved both to appreciate her father's talent and reassess some of her own life choices.
Under the guidance of Texan singer/songwriter Colin Gilmore, who serves as musical consultant, Reid and a raft of country musicians perform an acoustic selection of traditional Texan folk songs and original compositions. While the choice of lyrics can be rather pointed - Reid sings the centuries-old 'Pretty Polly', about a woman determined to "claim what she's owed by the pale moonlight" - their melancholy air and Reid's angry delivery speak to the inner suffering that will drive her character to such desperate measures.
After being nominated for a Gotham Award for Now, Forager (2012), their feature debut, Halperin and Cortlund's follow-up was developed with support from Venice Biennale College-Cinema, IFP, IFF Rotterdam's CineMart, Austin Film Society and a Yaddo residency. A successful Indiegogo crowdfunding campaign raised the funds for its post-production work, before the film premiered at SXSW.
Beautifully shot by cinematographer Jonathan Nastasi, who frames everything from the big skies of rural Texas to the flame-licked intensity of a campfire singalong with an intimate touch, La Barracuda also looks as good as it sounds. It's a beautifully composed ballad that both celebrates and laments the passing of time and resonates long after the credits roll.
Production companies: Small Drama, Blue Suitcase
International sales: Blue Suitcase dhartst@gmail.com
Producers: David Hartstein, Nancy Schafer
Executive producers: Bruce Beresford, Ian Brownell, Henry V. Alfano
Screenplay: Jason Cortlund
Cinematography: Jonathan Nastasi
Production design: Diz Jeppe
Editor: Eva Claire
Music: Chris Brokaw
Main cast: Allison Tolman, Sophie Reid, JoBeth Williams, Luis Bordonada, Larry Jack Dotson, Butch Hancock, Bob Livingston, The Mastersons