Dir./scr: Michelle Morgan. US, 2016. 97 min.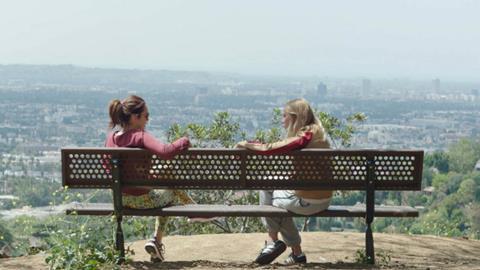 Equal parts droll and dull, actress-director Michelle Morgan's feature debut L.A. Times is an arch comedy of ill-manners in modern Los Angeles. Set more specifically within its most vapid spaces—a world of attractive actors, TV writers, interior designers, online content providers and sundry 30-somethings with too much time on their hand and lots of "game nights"—L.A. Times could be positioned as a sly and acerbic alternative to current talk of the town, La La Land.
As a satire about L.A. living, the movie delivers its fair share of zingers.
But L.A. Times isn't a movie with people that you want to stick around with and see what happens to. That may be Morgan's point: the movie delights in its off-putting nature. One of the central gags, in fact, follows a character that strives for a partner who berates and belittles him. Audiences, however, may feel differently about this rarefied American indie..
L.A. Times centres around the poor decisions and bad habits of three central characters: Annette (Morgan), a highly critical, quick-to-complain quasi-writer; her boyfriend Elliot (Jorma Taccone), a successful TV writer for a Game of Thrones-like cable series; and their friend, Baker (Dree Hemingway, here, channeling Greta Gerwig), a lovelorn designer who yearns for a meaningful relationship with a man and yet sleeps with them too quickly. When Annette decides to break up with Elliot and re-enter the dating scene, the two go about their separate journeys—and like a classic comedy of re-marriage—learn that they may have been better off together than single.
As a satire about L.A. living, the movie delivers its fair share of zingers. With a script that recalls Whit Stillman and TV sitcoms, Morgan's crisp dialogue sometimes hits its target. During a conversation about eating at one of L.A.'s food trucks, Annette fires back, "can't we go somewhere with chairs?" Or during an argument at a Yoga studio, she delivers this apropos rejoinder: "If that's how you feel, those are your feelings."
During a couple of cleverly constructed early scenes, the film channels this sharp tone in stark visual terms with Tati-like precision, as when a conversation plays out entirely in front of a giant FX "Green Screen" on a TV set, or when Annette and Elliot argue in the foreground as a Twister game of entangled bodies plays out in the background. Such deadpan sequences keep L.A. Times mildly amusing for a bit. But with the exception of some percussion-scored hijinks in a scene ripped from early Woody Allen, featuring Elliot's escapades with a hotel prostitute ("You have a gun!?"), L.A. Times overstays its unwelcome. The laughs dwindle; the characters' hang-ups grow tiresome; and the story meanders along to its inevitable conclusion.
L.A. Times is best served as a calling card for Morgan's career, as a triple-threat writer-actress-director. Niftily, she combines charming sweetness, sophisticated poise and a repellant attitude to embody a certain aspect of Los Angeles, clean and pretty on the outside; horrible and hypocritical on the inside.
Production companies: Hyperion Media Group, Storyboard Entertainment, Water's End Productions
International sales: UTA
Producers: Alix Madigan-Yorkin, Ryland Aldrich, Jared Stern
Executive Producers: Ricky Blumenstein, Tom Dolby, Susanne Filkins, Paul Finkel, Michael J. Mailis, Abdi Nazemian, Jason Potash, Jorma Taccone, Susan Wrubel
Cinematographer: Nicholas Wiesnet
Editor: John-Michael Powell
Production Designer: Hillary Gurtler
Music: Anthony Willis
Principal Cast: Michelle Morgan, Dree Hemingway, Jorma Taccone, Kentucker Audley, Margarita Levieva, Adam Shapiro