Dir. Martin Zandvliet, Denmark/Germany, 100 minutes, 2015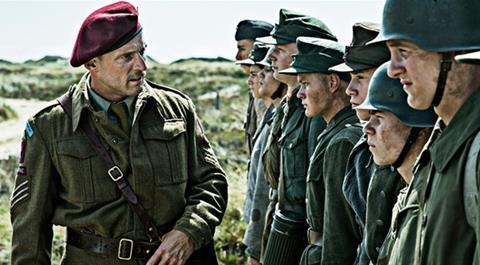 Denmark's mistreatment of German prisoners after World War II, a little-known chapter of post-war history, is a powerful j'accuse in Land Of Mine, which may surprise all but specialised historians. The film revisits the Allies' practice of using captured Germans to clear land mines on the Danish coast that would blow many of them to bits. There's also humanity here in the bond that forms between a stern Danish sergeant (Roland Moller) and the adolescent POWs in his charge.
The depictions of vindictive Danes sending boys to be blown apart clashes with the accepted noble portrait of a country whose king refused to deport Jews from Denmark and wore a yellow star in protest.
The obvious audiences for Martin Zandvliet's heartfelt drama are Danes who seek the truth behind their country's myths of wartime heroism, and Germans (the film is mostly shot in the German language) who might be drawn to examples of innocence or goodness in their nation's years of shame. This film could also tap into the huge audience for war epics, with a potential global reach thanks to its affinities with classics in that genre such as The Bridge on the River Kwai, Grand Illusion, and Danis Tanovic's No Man's Land.
At war's end, some 1.5 million mines placed by the Nazis remained on Denmark's west coast. Defusing them was a national urgency. Rather than use Danes who had sacrificed so much during the Nazi occupation, British liberators proposed that the Danish government deploy thousands of Wehrmacht POWs on Danish territory for the job. At least half of them died at that task from May to October 1945.
Land of Mine isn't the first account that suggests that the Danes committed a war crime. Nor is it the first examination of brutality against defeated Germans in 1945. What's new is that those charges of Danish misdeeds are being brought to a wide audience in the language of epic cinema. Zandvliet (A Funny Man, 2011, Applause, 2009) picks up the story as a vengeful Danish officer assigns a stern sergeant (Moller) to manage a brigade of boy prisoners conscripted late in the war. Moller's ox-like character makes that severity look a lot like sadism, until the cruelty of his British and Danish superiors and the deadliness of the job draw out his protective instincts.
Moller bulldozes his way from brutality to empathy, and the plot that probes the nuances of history soon veers into well-meaning inverted extremes of Allied evil and German innocence, as the prisoners operate under a potential death sentence and Danish commanders exploit captive labour.
The depictions of vindictive Danes sending boys to be blown apart clashes with the accepted noble portrait of a country whose king refused to deport Jews from Denmark and wore a yellow star in protest. German soldiers portrayed as innocents who are as harmless as a kindergarten class may be a jolt to audiences accustomed to seeing them as invading predators and killers. Yet the soldiers' grim fate, borne out by the facts and observed at close range with a hand-held abruptness, keeps the film's earnest sentimentality from over-flowing.
Despite the sense of fatalism and some clumsy turns in Zandvliet's script, Land Of Mine achieves moments of chilling suspense in scenes of untrained soldiers defusing mines by hand and in the bloody bodies that leap into the air when the boys fail.
The tension builds on the impressive composure of German and Swiss teenage actors (many of them already television veterans), including the endearing twins Emil and Oskar Belton – still not yet 16 – who play brothers who are captured in Germany's dying days. With some adroit promotion, the young cast could be a strong selling point in German-speaking countries and beyond.
The sand dunes of Denmark's Skallingen peninsula (finally declared mine-free in 2012) are a huge canvas for cinematographer Camilla Hjelm Knudsen, the director's wife, who evokes a desert-like vastness reminiscent of a David Lean landscape for boys forced into a labour of futility. The motif of teenagers marching into those expanses drives home the grim truth that wars don't end when the belligerent commanders declare the fighting to be over.
Production companies: Nordisk Film Production/ Amusement Park Films
International sales: K5 International office@k5film.com
Producers: Mikael Chr. Rieks, Malte Grunert
Executive producers: Henrik Zein, Torben Majgaard, Lena Haugaard, Oliver Simon, Daniel Baur, Stefan Kapelari, Silke Wilfinger
Screenwriter: Martin Zandvliet
Cinematographer: Camilla Hjelm Knudsen
Editors: Per Sandholt, Molly Marlene Stensgaard
Production designer: Gitte Malling
Music: Sune Martin
Main cast: Roland Møller, Louis Hofmann, Joel Basman, Emil Buschow, Oskar Buschow, Mikkel Boe Følsgaard, Emil & Oskar Belton