Heartbreaking personal documentary about abuses by the Irish state and the Catholic Church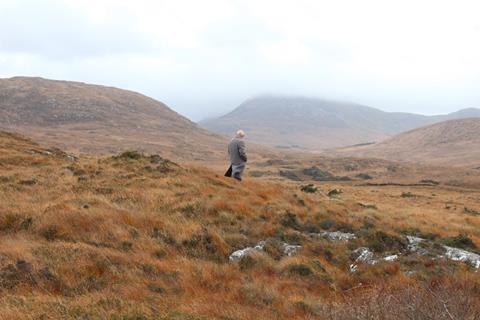 Dirs: Mannix Flynn, Lotte Petronella, Maebhdh McManon. Ireland. 2019. 74mins
This heartbreaking documentary is a personal testament by Irish artist and politician Mannix Gerard Flynn and his extended family as to how they were broken by the toxic combination of church and state. Some members have never spoken to each other about the abuse they suffered as children; some have given evidence to various state-backed enquiries. They will never find a resolution.
Land Without God isn't evidence-based or linear; it's more about anguish and remembrance
Land Without God isn't so much a catalogue of facts as a presentation of the Flynn family's story as a painful lament. A basic grasp of the history of church and state collusion in the abuse and forced labour of children in Ireland is necessary to fully understand the devastation it surveys. A brief 74-minute running time and strong accents mean that Flynn's testimony is probably destined for a small-screen airing in Ireland, alongside events and debates. It will perhaps assist the director's aim of holding institutions to account. The shattered faces of his siblings speak eloquently of hard lives of pain – and shame.
Flynn is now 60 years old. He has 14 siblings and many more nephews and nieces, whose testimony underscores the hard fact that the abuse he remembers didn't stop in the 1960s, 1970s or even the 1980s. Many outside Ireland will be familiar with the Magdalene Laundries; fewer with the "industrial schools" – reform institutions run by the Catholic Church where children were locked up and put to work, re-emerging as adults to lives of crime, imprisonment, and addiction.The solution to those who offended the moral authority of church and state – even a 10 year-old truant who stole a dinky car - was incarceration. Mannix Flynn was sentenced to six years in the notorious St Joseph's Industrial School in Letterfrack, hundreds of miles away from his home in the Dublin.
The Flynn family was admittedly "wild": their mother, an orphan at 13 who brought up her own siblings, sold vegetables in a market while dad swept the streets. They all lived in a two-bed apartment and were stigmatised in school and told to be ashamed of their poverty; an all-pervading shame that stays with them today despite what they have suffered. They didn't attend school, ran around the city pushing other kids around. That was the extent of their crimes. Yet sibling after sibling fell foul of the authorities and were packed off to hard labour and sexual abuse in desolate places which Flynn revisits today.
Land Without God isn't evidence-based or linear; it's more about anguish and remembrance. Flynn himself narrates in poetic voiceover, and he is pictured revisiting his old prisons and haunts as he testifies and encourages his family to speak about their past. He uses a blackboard to introduce chapters in scenes which are less effective – this documentary is rough-hewn and fragmented, much like its participants. These damaged people have lived in a dark place and struggle to shed the sense of shame that never seems to afflict the perpetrators of the abuse they suffered. Land Without God reminds the viewer how important it is to keep shining that light into the darkness.
Production company: Farcry Productions Limited
Contact: landwithoutgod@gmail.com
Producer: Gerard Mannix Flynn
Cinematography/Editing: Lotte Petronella
Music: Laura Naukkarinen