A bereaved couple take their recently deceased son's friend under their wing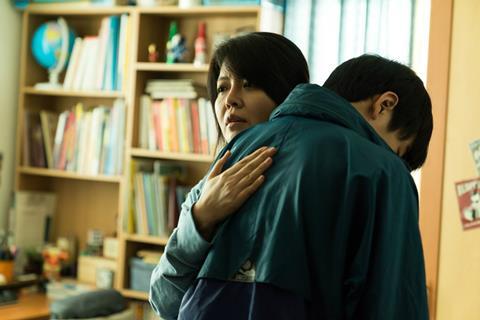 Dir. Shin Dong-seok. South Korea. 2017. 124mins
Death, grief, reconciliation, truth — South Korean writer-director Shin Dong-seok tackles a weighty bundle of domestic-drama themes in debut feature Last Child, but handles them all with maturity and fine-tuned narrative skill. An impressive trio of lead performances and economical, involving dramatic progression will make this low-key but emotionally satisfying drama an appealing item for festivals above all; it should also put Shin on the map as a substantial new Asian talent to watch.
What could easily have toppled into melodrama territory is contained with sure-handed restraint by director Shin
The closest comparison in South Korean cinema to Shin's approach would be the complex, emotionally rich dramas of Lee Chang-dong (Secret Sunshine, Poetry). Indeed, Last Child has one theme in common with the latter film; the bourgeoisie's tendency to close ranks when orderly social appearance is under threat. Lead actress Kin Yeo-jin also appeared in Lee's 1999 film Peppermint Candy. Where Lee's films are novelistic in scope, however, Last Child is perhaps more of a novella, and arguably a tad over-extended in the final stretch which aims unpersuasively for a cathartic climax. This close misstep apart, Shin shows solid judgement as both writer and director, and has a formidable skill at eliciting nuanced performances.
The intimate drama focuses on a couple, Sungcheol (Choi Moo-seong) and his wife Misook (Kim Yeo-jin) who run a small town decorating company, and whose teenage son recently drowned in an accident in the nearby river. One day, Sungcheol spots Kihyun (Seong Yu-bin), a boy centrally involved in the event, being victimised by other boys, and ecides to honour his dead son by taking the youth — a rather aimless outsider — under his wing.
Despite disapproval from Misook, who is dealing with grief in her own different way, Sungcheol decides to train Kihyun as an apprentice; gradually, and not without difficulty, the boy finds himself rising to the challenge. The day comes when Eunchan is officially honoured for his bravery, and Kihyun graduates as a qualified craftsman. All seems set for satisfactory closure all round, until the true facts emerge about Eunchan's death.
What could easily have toppled into melodrama territory is contained with sure-handed restraint by director Shin. Actors Choi and Kim bringing precise modulation to the gradual shifts in the couple's relationship, and in their attitudes to Kihyun, who becomes a surrogate son to them; as the boy, young actor Seong nicely plays on the hard-to-read diffidence of this emotionally wounded character. Astute dramatic structuring makes for emphasis on Sungcheol in the first half and Misook in the second, as each discovers different aspects of the damage done to the life they have built.
Kim Young-tak's detailed production design highlights the motif of interior decoration, which comes to assume metaphoric weight as a figure of the home and the ease with which it can be torn apart. And Lee Zi-hoon's confident widescreen cinematography generally sticks to a mundane urban setting, but makes the most of the forest and riverside setting of the final act.
Production company: ATO
International sales: Finecut jeong@finecut.co.kr
Producer: Je Jeong-ju
Screenplay: Shin Dong-seok
Cinematography: Lee Zi-hoon
Production design: Kim Young-tak
Editor: Lee Young-lim
Music: Kim Hae-won
Main cast: Choi Moo-seong, Kim Yeo-jin, Seong Yu-bin