Dir/scr: Bujar Almani. Albania-Greece-France.  2011. 83mins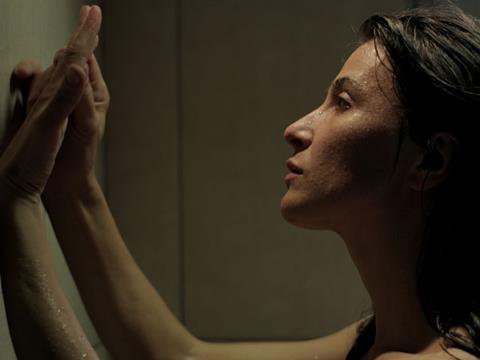 Bujar Almani's debut feature is a doomed love story that ends abruptly at a point that most other melodramas would choose as their launching pad. Inspired by a new law which allows sexual intercourse between married couples inside a prison in Tirana, when one of the couple is a convict, the script proposes an imaginary relationship between a man and a woman, each with a partner in jail, cut short by an amnesty which forces them to go back to the drudgery of their former life.
Director/screenwriter Almani displays a solid control of the visual language.
More interesting for its background – Albania today - than its transparently manipulated plot, Amnesty (Amnistia), which screened at the Sarajevo Film Festival, will most probably target thematic festivals and film events, before heading for the TV market.
Elsa (Luli Bitri) and Spetim (Karafil Shena), both married but not to each other, regularly visit their partners, who have been put in prison for petty offences. She lives with her father-in-law in a small city, Podgorec, outside Tirana, together with her two small sons, after her husband was sent to jail for unpaid debts. In the film's first scene she is fired from her job at a foundry, which has been sold to foreign investors and is being "restructured".
Spetim works at the printing plant of a daily newspaper, and lives alone, now that his wife has been condemned to 2 1/2 years, having forged passports for illegal immigrants. Once a month, Elsa and Septim pay their dues to the new law by going to the State Prison in Tirana to sexually service their spouses, in both cases a brutish, loveless operation that seems to satisfy only their partners, judging by their grunts (their faces are never shown on screen).
On one of their visits there, they are asked to be the witnesses at the wedding of a man who has wounded his rival and a young girl, Maya (Mirela Naska), who was the object of the rivalry. Elsa and Septim meet again on several later occasions and fall in love. When state amnesty is unexpectedly declared, their affair is naturally disrupted, and the first attempt by one of them to pursue the relationship further is cut short by a tragic ending which does not allow any real conflicts, remonstrations or pangs of conscience to develop.
A better director than writer, using a schematic and often repetitive screenplay, Almani is never really curious to explore his two lead characters beyond their immediate activities, systematically ignoring, for instance, the nature of either Elsa or Spetim's marriages. Their respective husband and wife aren't just faceless, they lack any trace of human presence, their only role being to wrap the protagonists in deep gloom, out of which they never dare to step till the end.
The grim, old-fashioned father in law who has little sympathy for anyone around him, and Elsa's brother, a fisherman who sees no way out of his miserable existence, help underline a way of life that is still very much dictated by old, restrictive traditions, combined with the shock of switching to the market economy in a country that is incapable of dealing with it. It is only through secondary characters, such as the lively Mirela Naska, that a touch of light is briefly brought into the picture.
Almani, who acquired his early film experience working in Greek cinema, displays a solid control of the visual language, achieved here with the help of a mainly Greek technical whose work is smoothly professional.
Production companies: 90 Productions, Fantasia Ltd., Arizona Films
International Sales: M-Appeal World Sales, www.m-appeal.com Cinematogrpahy: Elias Adamis
Producers: Bujar Almani, Thanos Anastopoulos, Guillaume de Seille
Editor: Bonita Papastathi
Music: Leandros Dounis, Xenofontas Kontopoulos
Cast: Luli Bitri, Karafil Shena, Todi Liupi, Mirela Naska, Alaksandar Rrapi