Dir: Doug Liman. US. 2010. 106mins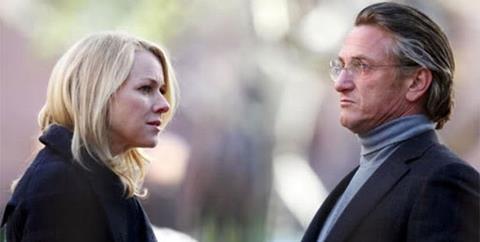 Doug Liman's Fair Game, the only US film in the Cannes main competition section, arrived modestly and left pretty much the same way. It is an intriguing real-life drama story - distinctive mainly because of Sean Penn's desk-banging performance - but all rather pedestrian and straightforward.
Fair Game is a fascinating real-life story.
It is predictably right-on filmic fare that is eminently watchable but just not massively memorable. It will get attention due to real-life story it is based on, but like a number of the recent Iraq-themed dramas it is unlikely it will set the box office alight. Look for respectful reviews and a healthy home entertainment life.
The first half of the film is all relatively by-the-numbers. Valerie Plame (Naomi Watts) is a covert officer in the CIA's Counter-Proliferation section, and leading a team into the existence of weapons of mass destruction in Iraq in the run up to the War. She is a super-efficient agent by day and an even more efficient wife-and-mother by night, keeping her identity under wraps at dinner parties etc.
Her former diplomat husband Joe Wilson (Sean Penn), who was once an ambassador in Africa, is asked by her superiors to go Niger to look into rumours of sales of enriched uranium. He finds nothing and reports back, with all at the CIA accepting his conclusions.
The second section of the film kicks in when the Bush administration ignores his findings and starts to use aspects of his report to justify its call for a war on Iraq. Joe reacts, and writes an editorial in the New York Times drawing attention to mistruths within the administration. To detract from the coverage, White House officials leak Valerie' covert status and state that Joe was asked to visit Africa and report back by her and the CIA.
With her job ruined and contacts overseas placed in danger, Valerie is pushed to breaking point, and the couple's marriage is put under event great strain by Joe's insistence to fight the government through press and public appearances.
It is all pretty solid, if unexciting, drama. Initially the film is largely about Valerie (Watts is suitably efficient and glacial, though her performance is perhaps too understated) as she hops around the world recruiting sources; chairs highly-technical meetings, and then pops home to put her young twins to bed and canoodle with her hubby.
There are a few moment of much needed humour when the couple crack some obvious 007-type jokes, though even at this early stage Sean Penn (lank hair and glasses to indicate he is an academic type) starts to irritate as her outspoken husband who is a bit of a know-all when it comes to world politics.
Penn the actor takes over in the film's second part as his character launches of grandstanding speech-making appearances where he gets to deliver a series of pronouncements. One knows that he is right and our liberal sympathies are with him…but you do just want him to sit down and keep quiet for a while.
During this period of the film Valerie is left to mooch around the house, getting increasingly disappointed with her husband and her former employers. The climax of the film sees her finally standing up for herself as she gives evidence at an official hearing - at this point Liman switches to real footage of Valerie Palme giving evidence. And yes, she does look rather like Naomi Watts.
Fair Game is a fascinating real-life story that is rather diluted by the by-the-numbers script and director Doug Liman's love for hand-held camerawork that tends to dull rather than heightens any tension. Liman - whose films include The Bourne Identity, Mr and Mrs Smith and Jumper - never seems to have a firm grip on the drama…or sure how to reign in Penn, who does tend to seem at his happiest when making speeches in movies.
It isn't so much that his character isn't correct in his anti-White House stance, but rather that he dominates a film which is far more interesting when tackling Valerie Palme and her CIA/housewife double-life.
Production companies: River Road Entertainment, Participant Media, Zucker Productions, Weed Road Pictures, Hypnotic International sales: Summit Entertainment, www.summit-ent.com
Producers: Jez Butterworth, Akiva Goldstein, Doug Liman, Janet Zucker, Jerry Zucker, William Pohlad
Screenplay: Jez Butterworth, John-Henry Holden
Cinematography: Doug Liman
Editor: Christopher Tellefsen
Production designer: Jess Gonchor
Music: John Powell
Main cast: Naomi Watts, Sean Penn, Ty Burrell, Bruce McGill, Noah Emmerich, David Andrews