Dir: Robert Redford. US. 2010. 122mins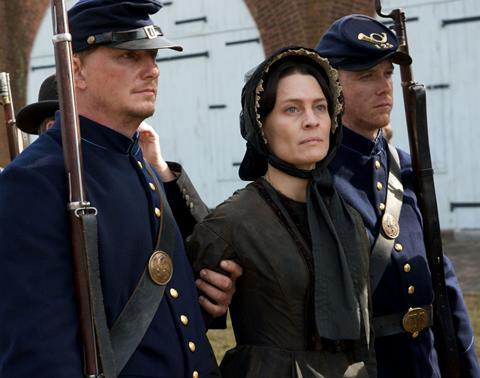 Bearing in mind that it was financed by the owner of the world's largest bison company and his new production outfit called The American Film Company, it's a relief to realise that The Conspirator is not a rousing flag-waver told in jingoistic shades of black and white. Instead, with Robert Redford at the helm, it is a story that questions the fundamental tenets of the US constitution in a far more compelling, even daring manner than Redford's last movie Lions For Lambs.
It needs careful handling to overcome that pessimism and find the audiences who would appreciate it more as a ripping good yarn than a worthy slice of US history.
In looking at the Union in the panic-stricken aftermath of Lincoln's assassination in 1865, Redford evokes obvious parallels with the US after 9/11 where similar fear-mongering, hate-fuelled rhetoric and illegality were all the rage in government. The picture is drawn against the riveting story of a young attorney's efforts to defend one of the accused conspirators when all is stacked against him.
It's the director's most assured film since Quiz Show (1994), boasts a handsome period production and a large cast ably led by James McAvoy and Robin Wright.
Quite how a thoughtful period courtroom drama - which ends badly - sits in today's commercial marketplace is another matter. At a time when distributors are clinging to genre titles and a Sylvester Stallone action movie is the number one movie in the world, The Conspirator could struggle to lock down buyer commitment. International buyers in particular might balk at the distinctly American subject matter and Civil War setting that often leaves non-US moviegoers cold. It needs careful handling to overcome that pessimism and find the audiences who would appreciate it more as a ripping good yarn than a worthy slice of US history.
The film's first act covers the assassination of Lincoln by John Wilkes Booth and the efforts by war secretary Edwin M Stanton (Kline) to bring Booth's co-conspirators to justice.
McAvoy plays an earnest young war hero-turned-lawyer called Frederick Aiken who is charged by his boss Reverdy Johnson (Wilkinson) with providing a defense for one of the conspirators – 42 year-old Mary Surrat (Wright) who owned the boarding house where Booth and his comrades planned the attack. Although she is the mother of one of the gang (Simmons), there appears to be no evidence that she was in on the plot.
Against his better judgment, Aiken takes on the case and comes to believe that she is being used as a scapegoat by Stanton and his cronies to avenge the slain president. While his friends and fiancée struggle to understand why he is so engaged in her defense, Aiken becomes increasingly determined to secure a fair trial for the woman.
McAvoy tackles the demanding leading role with his customary dedication; as in The Last King Of Scotland and The Last Station, he has the less showy role – Wright occupies that position here – but his impassioned performance goes a long way to compensate for some of the film's glaringly didactic moments. Wright gives a masterfully austere performance as the Confederate woman whose innocence is always in question.
Redford and his cinematographer Newton Thomas Sigel desaturated the colours using an autochrome process to create a more authentic period look, an effect that largely works although some of the interiors appear alternately overlit or murky.
Production companies: The American Film Company,Wildwood Enterprises
International sales: Focus Features International, www.focusfeatures.com
Executive producers: Joe Ricketts,Jeremiah Samuels,Webster Stone
Producers:Robert Redford,Greg Shapiro,Brian Falk,Robert Stone,Bill Holderman
Screenplay:James Solomon
Cinematography:Newton Thomas Sigel
Production designer: Kalina Ivanov
Editor:Craig McKay
Music:Mark Isham
Main cast: James McAvoy,Robin Wright,Kevin Kline,Evan Rachel Wood,Tom Wilkinson,Danny Huston,Justin Long,Alexis Bledel,Johnny Simmons,Colm Meaney,Toby Kebbell,James Badge Dale