Dir: Bouli Lanners. Belgium/France/Luxembourg.  2011. 84mins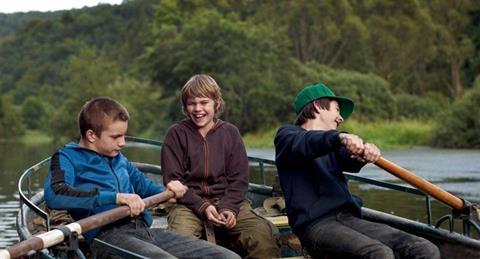 Life is an awfully big adventure for two adolescent boys and their newfound friend in The Giants (Les Geants), a joyous heartwarmer with an endearing Mark Twain meets Ken Loach vibe. Bouli Lanners third feature deftly negotiates between heartbreak and hilarity in a picaresque story notable for its boisterous good spirits, economical storytelling and engaging central performances. A refreshing take on some classical story elements, the film should appeal to Lanners growing following and delight audiences across the age spectrum.
One of the reasons that The Giants casts such a spell is the refreshing depiction of the adolescents as affectionate and good-natured.
Cinematographer Jean-Paul De Zaeytjid does an expert job of capturing the lush green countryside, rivers and fields where the story unfolds. There is an immediate connection to the world of Huckleberry Finn and the beauty of wind whispering through blades of grass that would not seem out of place in a Terrence Malick film. The rustic idyll is where we meet 15 year-old Seth (Martin Nissen) and 13 year-old Zak (Zacahrie Chasseriaud), two close-knit brothers living in the country home of their late grandfather.
Their mother appears to have abandoned them to their own devices for the Summer. They are broke, bored but endlessly resourceful as they steal food from the basement of a neighbour's house and make their own entertainment. When they meet Dany (Paul Bartel), the duo becomes a trio and the dynamic changes as they dare to become a little more adventurous.
One of the reasons that The Giants casts such a spell is the refreshing depiction of the adolescents as affectionate and good-natured. Even when their behaviour grows reckless or reprehensible ( selling grandpa's house to a local drug dealer, breaking into a family's summer house etc) we see it as a question of survival rather than malice.
The trio are lovable scamps rather than the sullen angry young men or menacing hoodies that have come to dominate the depiction of a younger generation in modern mainstream cinema. Set aside the dope smoking, wank jokes and fascination with farting and they could step from the pages of Enid Blyton.
The lightness of touch that Lanners displays with casting and story allows him to confront some serious issues of parental abandoment, isolation and how the growing bonds of friendship offer a brighter hope for the future. Dany suffers at the hands of his violent, psychotic big brother Angel ( a scary Karim Leklou), shady drug-dealer Boeuf (a twitchy, hilarious Didier Toupy) takes them for a ride but they also experience the kindness of strangers when Rosa (Marthe Keller) saves them from the pouring rain and takes them home for tea.
The performances of the three boys are very impressive; unselfconscious, endearing and completely believable as three musketeers against the world. They make you care immensely about the fate of the characters and ensure that Bouli Lanners film will widely engage with hearts and minds.
Production Companies: Versus Productions, Haut Et Court, Samsa Film
International Sale: Memento Films International www.memento-films.com
Producers: Jacques-Henri Bronckart, Olivier Bronckart, Jani Thitges, Carole Scotts, Simon Arnal
Screenplay Bouli Lanners, Elise Ancion
Cinematography: Jean-Paul De Zaeytijd
Production designe: Paul Rouschop
Editor:Ewin Ryckaert
Music: The Bony King Of Nowhere
Main cas: Zacharie Chasseriaud, Martin Nissen, Paul Bartel, Karim Leklou, Didier Toupy, Marthe Keller