Dir: Angelina Maccarone. France. 2011. 94mins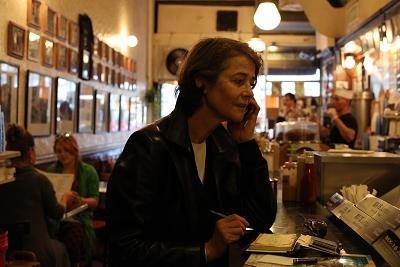 Part biographical documentary and part a series of musings on life and art, this extremely watchable film about actress Charlotte Rampling is a fascinating series of discussions between her and a series of photographers, writer and filmmakers. It will intrigue those who are fans of her work and should appeal to festivals and nice arts broadcasters.
There are brief moments when the film dips into other more personal aspects of her life.
For those, however, out for a look at her life and career The Look might be rather unsatisfying given that it features a series of head-to-head chats (or musings) separated into chapters - such as 'Desire' and 'Demons' - rather than featuring a plethora of film clips and lots of gushing praise.
The famous Rampling 'look' - the way that her increasingly hooded eye-lids help create of powerful stare that is much loved by her directors - is amusingly discussed by Rampling and photographer Peter Lindbergh, where she debates how a little surgery would actually rid her of the 'look' itself. Engagingly she takes the camera and turns it on Lindbergh, shooting some pretty impressive images.
Subsequent meetings with a series of friends - including author Paul Auster, German photographer Juergen Teller and artist Anthony Palliser, all annoyingly without titles to indicate who they are - are intriguing and at times fascinating, and while Rampling is a charming, witty and erudite personality she rarely gives anything away about herself.
The film does feature a few extracts from Rampling's film work, with - unsurprisingly her role in Liliani Cavani's controversial 1974 film The Night Porter receiving the most attention, as she discusses the film with Juergen Teller. Also featured are extracts from Ozon's Swimming Pool and Sous le sable; Lumet's The Verdict (and the scene where her character is hit by Paul Newman); Oshima's Max mon amour and Visconti's The Damned.
There are brief moments when the film dips into other more personal aspects of her life - such as when he briefly mention's her younger sister's suicide at the age of 23 - and while she can appear formidable and vaguely unapproachable she also has a ready smile and sharp wit. Towards the end of the film she is shot wandering around Paris, and casually engages in a conversation with a group of elderly men who vaguely recognise her. She immediately charms them with her warmth and easy grace…the same qualities that we have come to expect from her screen roles.

Production companies: Prounen, Tag/Traum, Les Films D'Ici
International sales: MK2, www.mk2-catalogue.com
Cinematography: Bernd Meiners, Judith Kaufman
Editor: Bettina Bohler
Music: Jakob Hansonis, Alex De Silva
With: Charlotte Rampling, Peter Lindbergh, Paul Auster, Barnaby Southcombe, Jurgen Teller, Frederick Seidel, Franckie Diago, Anthony Palliser, Cynthia Fleury, Joy Fleury