Dir: Mathieu Vadepied. France. 2015. 93 mins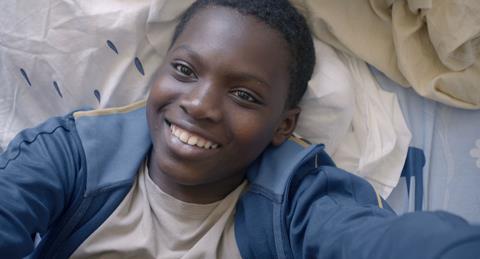 Veteran French cinematographer Mathieu Vadepied delivers an amiably accomplished feature debut with comedy drama Learn By Heart, which closes Cannes Critics' Week. Telling the story of a French Senegalese 14-year-old boy (newcomer Balamine Guirassy) living with his mother in a north Paris housing project, the film benefits from a deft avoidance of gritty urban cliché, despite utilising familiar story ingredients – drug dealing, broken home, absent family members – from the contemporary social-realist handbook. But a lack of strong marketable elements make this mildly enjoyable film hard to position beyond its native France, where Gaumont releases in September.
Vadepied's film occasionally sacrifices credibility in its bid to keep us guessing.
Cast after extensive search, non-professional actor Guirassy certainly brings the right mix of vulnerability and street-smart bravado to the role of protagonist Adama, whose mother has moved out with him from the home in which his father and half-siblings live due to France's polygamy laws.
Failing at school, Adama misses his elder brother who has been sent back to Senegal to keep him out of trouble. He quickly senses an opportunity when his younger friend Mamadou (Ali Bidanessy) discovers a six-ounce (150-gram) brick of cannabis resin on the ground after a police raid on the neighbourhood dealers. But the nascent capitalists inevitably fall foul of a local dealer, who then does a U-turn, seeing the advantage of employing this angelic-looking duo to shift ever bigger amounts of product.
Exploiting minors in drug retailing is hardly a new topic for screen drama (see TV's The Wire, etc), but Vadepied (who lensed (Read My Lips and The Intouchables) and co-writers Olivier Demangel and Vincent Poymiro employ a refreshingly light touch as the two young entrepreneurs negotiate the hazards of their profession.
Adama's gift for ingenious improvisation brings plenty of smiles, especially when he employs a homeless man (Bass Dhem, very funny) to pose as his father at a school disciplinary meeting. Guillaume Gouix – also cast in Cannes Critics' Week title The Anarchists – is a likeable presence as the PE teacher who keeps a fatherly eye out for his evidently troubled pupil.
Inhabiting a convincingly tough milieu in the North suburbs of Paris, but occasionally traveling along some rather unlikely narrative lines, Learn by Heart (La Vie en Grand in French markets) finally struggles to make sense of its ill-defined genre positioning. Mixing extreme jeopardy, as the plucky duo implausibly offloads a big chunk of cannabis to a well-armed dealer in an underground car park, with relatably small-scale storylines about funding for a school trip and the pressure to learn a poem by heart to pass an oral test in literature class, Vadepied's film occasionally sacrifices credibility in its bid to keep us guessing. Audiences may not end up minding too much, however, happy to go along with a warm-hearted coming-of-age tale that always commands a rooting interest by staying largely true to its generously endearing characters.
Production companies: Unité De Production, Ten Films
International sales: Gaumont, fdauvergne@gaumont.fr
Producer: Bruno Nahon
Screenplay: Olivier Demangel, Vincent Poymiro, Mathieu Vadepied
Cinematography: Bruno Romiguiere
Editor: Marie-Pierre Frappier
Production design: Alexandre Vivet
Music: Flemming Nordkrog
Main cast: Balamine Guirassy, Ali Bidanessy, Guillaume Gouix, Joséphine De Meaux, Léontina Fall, Adama Camara, Bass Dhem, Aristide Tarnagda, Marion Ploquin