Dir/scr. Brian Helgeland, UK-US, 2015, 131 mins.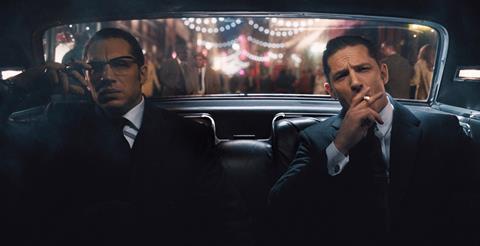 The casting of the ever-intriguing Tom Hardy as violent 1960s London villains Ronnie and Reggie Kray in Brian Helegeland's biopic Legend was the film's main selling point through its pre-production process and his gutsy, typically physical performance as the terrorising twins remains its calling card at the end of 131 lengthy minutes of lurid Cockney drama.
Helegeland's script is far more convincing when it requires Ron or Reg to yell 'shut up you c***t' at each other, and Legend certainly delivers on this front
Premiering at Toronto before opening in the UK through StudioCanal and onto the US via Universal on October 2, Legend's commercial success will rest on the actor, riding high on the success of Mad Max: Fury Road, and he delivers a sufficiently flashy dual-performance to usher this into a good opening week and mid-range VOD success. (Bronson fans will certainly see glimpses of the actor they admire). Critical attention and word of mouth is likely to be nuanced, and the film is over-long at 131 mins, but the 1960s-London milieu and the legend of the Krays is always good for publicity in the UK, even if some commentators may object to the production's glossily-stylish rendition of two violent criminals.
The Kray Brothers, already eulogised in 1990's The Krays with similar stunt casting of the Spandau Ballet brothers Martin and Gary Kemp, are renowned for personifying a particularly London mix of sex, violence and politics in the Swinging Sixties. Scandal catalogued the exact same era, to better effect. They were violent gangsters who terrorised the East End; Ronnie was gay and sadistic; he had sex with politicians, compromising the Establishment. Reggie was your more common or garden swaggering, violent bully, and, later, a vicious killer.
From its opening frames, which depict the brothers in the back of a car, it's easy to buy Hardy's dual performance, and it doesn't get in the way of the film – although some actor-ly exuberance in the delivery of Ronnie can sound an off-note, with Hardy using some facial prosthetics around the jaw line which aren't particularly subtle.
Helgeland, who adapted LA Confidential and wrote and directed 42 and A Knight's Tale, occasionally demonstrates a tin ear for 1960s London, garlanding Hardy's thuggish twins in comically lurid dialogue, but a bigger hurdle is the decision to set Legend up as a love triangle of sorts between the twins and Emily Browning as Reggie's ill-fated wife Frankie. Physically, the slight actress is powered off the screen by Hardy, and her character's arc isn't substantial enough to square up to the twins. Initially played as a cheeky hood with sibling issues, Reggie's violence eventually escalates to match his brother's in a film which is ultimately all mouth and mayhem.
Legend is framed from the start by a wistful voiceover narrative from Browning's Frankie, and much of the early part of the film is set up as a romance between her and Reggie. Unfortunately for Frankie, however, crazy, drooling Ronny shows up whenever the going gets good. 'I'm a giver, not a receiver,' he informs her on their first meeting. 'There's a difference. I'm not a faggot.' Other cracking lines of dialogue include 'home at last, like Agamemnon returned from Ithaca!', 'London's bottom had reached her top', and, as the film draws to an end, 'the world is like London; it's not good, it's not bad, it just is'. Helegeland's script is far more convincing when it requires Ron or Reg to yell 'shut up you c***t' at each other, and Legend certainly delivers on this front.
Helgeland opts to dispense with the Krays' family background (unlike the 1990 production, which emphasised Billie Whitelaw's Mother Kray), and Christopher Eccleston is dutiful if under-used as the copper 'Nipper' Reed trailing in their wake. A similar fate befalls Tara Fitzgerald as Frankie's stony-faced mother and Paul Bettany as a rival gangster. David Thewlis, however, gets a good run as the brothers' consigliere and makes the most of it, with Chazz Palimenteri as Myer Lansky's delegate and Taron Egerton as Ronny's occasional boyfriend ' Mad Teddy'. The Kray brothers, as most Londoners know, were undone by the murder of Jack The Hat McVitie, and he tantalisingly comes and goes for most of this lengthy film, constantly being beaten to a pulp.
Music and production values help to recreate 1960s London although there are scanty exteriors to feast on. It does feel as if most of the budget, script, and attention went on Tom Hardy's Kray Brothers, down to the fine and fashionable threads they wear throughout (the production does constantly flirt with the risk of looking like a Vogue Man in the East End shoot). The Krays were a fascination of popular culture in the UK for the way they dominated the East End and swaggered through Soho, flaunting the Establishment; twin brothers, both boxers, one gay, one straight, both violent. With Legend, it seems as if their time may finally be laid to rest.
Production companies: Working Title, StudioCanal, Cross Creek
International sales: StudioCanal
Producers: Tim Bevan, Eric Fellner, Chris Clark, Quentin Curtis, Brian Oliver
Screenplay: Brian Helgeland, based on The Profession of Violence: The Rise and Fall of the Kray Twins by John Pearson
Cinematography: Dick Pope
Editor: Peter McNulty
Production design: Tom Conroy
Music: Carter Burwell
Main cast: Tom Hardy, Emily Browning, David Thewlis, Christopher Eccleston, Chazz Palimenteri, Colin Morgan, Taron Egerton, Paul Bettany, David Thewlis, Tara Fitzgerald