Dir. Janicza Bravo, USA, 2017, 83 mins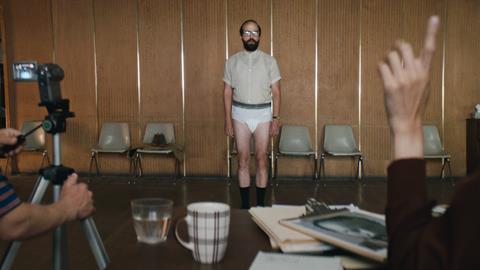 Lemon watches a struggling actor, Isaac Lachmann, walk through one humiliation after another. The debut feature by Janicza Bravo takes on a perennial comic genre yet, like its main character, it's best described as a work in progress. Bravo and her star and co-writer (and husband) Brett Gelman try to skewer the foibles of actors who stumble as they chase success – a staple of independent film and of stand-up comedy which sets the bar high for any newcomer.
The gags play into Lemon's "can-you-top-this" gambit, where every layer of bad taste seems determined to outdo either Sascha Baron Cohen or Larry David.
Set to open the Rotterdam Film Festival after its Sundance launch, Bravo's debut feature provides a new long-form forum for her and Gelman, a comedian seen frequently on television, and the jokes should ensure the couple further festival exposure and a small release. Be prepared for the title to become a punchline that will be hard to shake.
Isaac Lachmann (Brett Gelman) is a character who, at 40, is hard to like. He's a bearded nebbish who dresses badly and doesn't seem to wash his clothes or himself much, but he's also a nasty nerd who mistreats a meek woman (Gillian Jacobs) in the theatre class that he teaches. Even his blind live-in girlfriend, who doesn't have to look at him, is leaving.
The notion that such an unappealing soul is determined to be an actor is a promising point of departure for gags, and Gelman delivers in deadpan mode. Isaac is drawn to a pompous little actor in his class (Michael Cera) who is almost as distasteful as he is.
As the perennial actor seeking a job, Isaac also finds work in a commercial for adult nappies, and poses wearing that product as he speaks on-camera about incontinence. (Gelman himself had been the face of an ordinary guy in promotions for the New York State lottery.) And, since Isaac is Jewish, a scene at his family's Passover seder dishes out jokes like heaping portions of stale matzoh. Be prepared for an impromptu performance of A Million Matzoh Balls that's a mosaic of family dysfunction.
The gags play into Lemon's "can-you-top-this" gambit, where every layer of bad taste seems determined to outdo either Sascha Baron Cohen or Larry David.
If there's another antecedent for this approach, it's the ensemble comedy of Paul Bartel, who crammed big names into clever farces that spoofed the oddities behind the show-biz glam of Los Angeles. In Lemon, those big names are Jeff Garlin (as Isaac's fast-talking agent), and Fred Melamed and Rhea Pearlman (as Isaac's overbearing parents). Any star quality in those cameos fails to rub off to the film's benefit.
One of Lemon's stylistic flourishes is to crank up the music when things are about to go badly for Isaac, a mock-monumentalism honoring the man who can't achieve anything. The fanfare feels like a twist on Walter Mitty fantasies, a grand soundtrack belied by what we witness on the screen. When all else fails, there are always bodily functions, and Lemon stages a comic gross-out that shouldn't be given away.
Production companies: Burn Later Productions, Killer Films, Cyrk
International sales: UTA/ICM Schwartz-wrightm@unitedtalent.com
Producers: Paul Bernon, David Bernon, Sam Slater, Houston King, Han West, Rowan Riley
Executive Producers: Christine Vachon, David Hinojosa
Screenwriters: Janicza Bravo, Bret Gelman
Cinemtography: Jason McCormick,
Editor: Joi McMillion,
Production design: Grace Alie
Composer: Heather Christian
Main cast: Brett Gelman, Judy Greer, Nia Long, Shiri Appleby, Jon Daly, Hank Chen, Nick Offerman, Gillian Jacobs, Michael Cera, Fred Melamed, Rhea Perlman, David Paymer