A young ex-convict finds his newfound freedom far harder than life in prison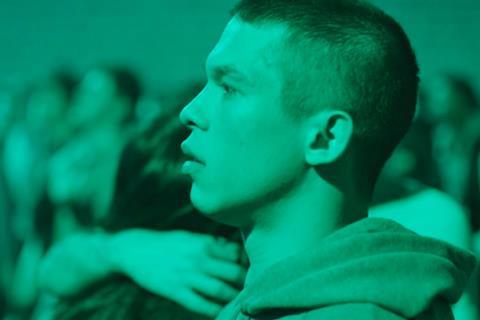 Dir: Sarah Marx. France. 2018. 85mins
A young ex-convict finds that the optimism he feels on earning an early release from prison swiftly evaporates when he is confronted by the realities of life on the outside: debt, a severely depressed mother and a rapaciously avaricious underworld in which everyone is on the make. This lean feature debut from Sarah Marx was co-written and produced by French rappers Hamé and Ekoué, founders of rap group La Rumeur and of film production outfit La Rumeur Filme. Sparse and unvarnished storytelling, this is an unflinching, naturalistic account of the vicious circle of debts and duties which make life on the outside harder than prison ever was.
The camera, like the central character, is rarely still
It's a confident, stripped down debut which delivers its stark message with economy, but lacks a distinctive flair. In francophone markets the La Rumeur connection will be a selling point. Festival interest is likely to be keen following the film's debut in Venice, however; particularly from events committed to seeking out and championing forceful new female directing talents.
In prison, Ulysse (Sandor Funtek) moves with the brash confidence which goes with the knowledge that he can hold his own. He's a young-looking 20-something with an infectious face-splitting grin. Not all of the staff are convinced by his claims of reform, but enough are swayed by his charm to sign off on his release. Outside, Ulysse will take over the care of his clinically depressed mother, Gabrielle (Sandrine Bonnaire) from his long suffering ex-girlfriend who is, she says, exhausted and broke from shouldering the responsibility while Ulysse has been incarcerated.
Ulysse owes her money for the care she has given the fragile and unpredictable Gabrielle. But the minimum wage kitchen job which Ulysse has lined up won't get him near to earning enough. "I'll do stuff on the side, like everyone else," he shrugs. The plan, hatched with his friend David (Alexis Manenti), is to hire food truck and hawk burgers and ketamine-spiked beer to ravers at dance music festivals. But debt and desperation cause the pair to take risks. And around every corner is someone else determined to skim some of the profit from their business enterprise.
The camera, like the central character, is rarely still. There's a nervy tension which builds as each half-formed plan crumbles and the consequences get progressively darker at each turn. The fateful night at the the festival, during which the foundations of the easy money scheme are washed away like sand, is a thrillingly propulsive sequence. Ulysse's grin starts to flicker like a faulty light bulb. The score, which is used with restraint, is a dull pulse of anxiety.
So spare and direct is the storytelling that a couple of scenes which give a touch of colour to the supporting characters really stand out. One reveals the drudge-like existence of a young female farm hand, a link in the ketamine supply chain, despairing of a lazy work experience girl. Another shows the owners of a garage pursuing a rat with a taser. But for the vast majority of the picture the focus is on the increasingly hunted-looking Ulysse, as he realises that when life is this tough, perhaps prison was the easy option.
Production company: La Rumeur Filme
International Sales: Orange Studio/Versatile
Producers: Hamé Bourokba, Ekoué Labitey
Screenplay: Sarah Marx, Hamé Bourokba, Ekoué Labitey
Production Design: Alexis Segura
Editing: Karine Prido
Cinematography: Yoan Cart
Music: Laurent Sauvagnac, Lucian M'Baidem (Papalu)
Cast: Sandor Funtek, Sandrine Bonnaire, Virginie Acariès, Alexis Manenti, Laurena Thellier, Stéphane Mouchabac, Willy L'barge