Dir. Ivo M Ferreira. Portugal, 2016, 105 mins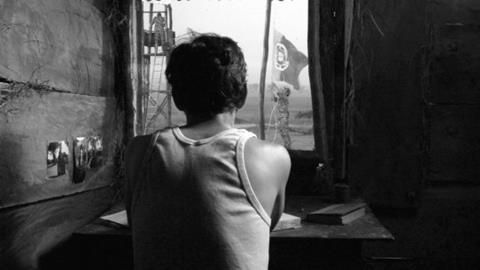 Sceptics may object that war on screen has rarely looked as beautiful as it does in Letters From War, the black and white feature by Portuguese director Ivo M. Ferreira. But this extraordinary non-narrative work illustrates the ability of the imaginative spirit – embodied here by a novelist in a combat zone – to find beauty and hope even amid horror and the soul-crushing tedium of the military condition.
Ferreira has pulled off a substantial contribution to war cinema in general.
Based on the letters from Angola of novelist Antonio Lobes Antunes, the film is a hugely ambitious evocation of Portugal's recent colonial past, and a mesmerizing experiment in reconciling hard realism at its most detailed with formal experimentation on a near-abstract level. The film's extraordinary visual signature, its richness as a historical statement, plus a potent emotional charge should tweak the interest of art-house buyers and fest programmers alike, especially given the resurgence of interest in Portuguese art cinema, as represented by Miguel Gomes, Pedro Costa et al.
This is the third feature from former documentarist Ferreira, following Em Volta and April Showers. Lieutenant Antonio (Nunes) is a young army medical officer posted to the then Portuguese colony of Angola in 1971. Throughout the film, images of his experience in the field are set to voice-over readings of his letters to wife Maria-José (Margarida Vila-Nova), pregnant at home in Portugal and occasionally glimpsed in the couple's book-filled apartment. The letters are heard sometimes in Antonio's voice, but more often in hers, creating a sense of merging between the two separated, and deeply enamoured spouses.
Starting from images of Antonio's journey to Africa on a troop ship, Ferreira and a team including production designer Nuno Mello create painstakingly detailed and realistic images of the lieutenant's experience, from stretches of heat-baked, mosquito-bitten boredom to moments at which the intensity and futility of war acutely come alive –the aftermath of carnage in local villages, the summary execution of MPLA (Angolan independence) militants, and an interlude rather redolent of Apocalypse Now, in which drunken soldiers get to gawp at two visiting female entertainers.
While Antonio does his best to keep sane, others crack up, notably a macho lieutenant (Ricardo Pereira) whose hypochrondria speaks volumes. A sequence in which Antonio addresses a long litany of increasingly baroque endearments to Maria-José takes on an incantatory erotic power, set to images of the two lovers in their beds
While the film's view of the Angolan conflict is seen strictly through the Lieutenant's eyes, this is in no way a Portuguese equivalent of those Vietnam movies that present that conflict as purely an American trauma. Both Antonio and his equally intellectual captain (João Pedro Vaz) are more than lucid about the misguidedness of Portugal's last-ditch attempt to hold onto its colonies, with Antonio recording his own gradual conversion to left-wing politics.
Not least, the film is a phenomenal achievement by DoP João Ribeiro, whose black and white photography – from chiaroscuro night shots to intensely textured deep-focus daylight compositions – is a tour de force from start to finish (an edition of Lobo Antunes's letters, illustrated by stills, is surely a must). While the film's intensely aesthetic, non-narrative drift may not be to all tastes, Ferreira has pulled off a substantial contribution not only to Portugal's cinematic musings on its colonial past (Gomes's recent Tabu and Manoel De Oliveira's Nao… come to mind), but to war cinema in general.
Production company: O Som e a Fúria
International sales: The Match Factory, info@matchfactory.de
Producer: Luís Urbano
Screenplay: Ivo M. Ferreira, Edgar Medina
Based on the book by António Lobo Antunes
Cinematography: João Ribeiro
Production designer: Nuno Mello
Editor: Sandro Aguilar
Main cast: Miguel Nunes, Margarida Vila-Nova, Ricardo Pereira, João Pedro Vaz, João Pedro Mamede