Tibetan opera is a highlight of the third feature from Sonthar Gyal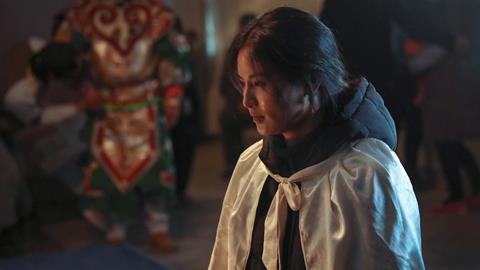 Dir. Sonthar Gyal. People's Republic of China. 2019. 110 mins
Belief in karma, old secrets and fact and fiction intertwine in the fourth feature from Tibetan cinematographer-turned-director Sonthar Gyal. The result is a slow-burn and, at times, convoluted relationship drama, whose chief charms lie in its creative use of Tibetan opera and with the younger members of its cast. Gyal's previous films Ala Changso, River and The Sun Beaten Path all picked up awards at international film festivals and Lhamo And Skalbe's strong Tibetan cultural element could see it garner further festival interest.
Gyal strives too hard to emphasise the spiritual elements of the film
While physical pilgrimages featured in both Ala Changso and The Sun Beaten Path, here the path Gyal's protagonists take is more psychological as Lhamo (Dekyid, who previously starred in Pema Tseden's The Sacred Arrow) discovers her planned wedding to Skalbe (Sonam Nyima) cannot go ahead as he is already married. The revelation seems to come as almost as much of a shock to him as to her, as he was under the impression his original tryst to a woman named Tsoyag had been cancelled before it began.
Lhamo is soon facing up to secrets from her own past, brought sharply into focus by her role in a local New Year's staging of The Epic of King Gesar, a Tibetan opera which tells the tale of a sinful concubine, Atak Lhamo, whose soul must be rescued from purgatory. The rehearsals for the opera are beautifully sung and add a poetic note that Gyal never quite manages to replicate elsewhere.
It's not hard to see the operatic idea of purgatory reflected in Lhamo's own homelife - underlined, should we miss it, by her name. There she is dealing with her testy mother and young nephew Tashi (Sechok Gyal, who previously featured in Alo Changso and has plenty of screen presence), who keeps running away from school.
Spiritual matters also begin to weigh heavily on Skalbe, as he discovers Tsoyag has become a nun - his attempts to get her to come and sign the divorce papers provide the film with one of its most winning scenes as a young girl becomes a conversational go-between for him and Tsoyag, who is chiefly off-camera. Gyal has a talent for generating humour in unexpected moments like this, and they come as bright spots in a narrative where more serious exchanges tend to come across as underwritten.
More generally, Gyal strives too hard to emphasise the spiritual elements of the film, also throwing plenty of talk of inauspicous occurences and some potential karmic negativity associated with Skalbe's downtrodden horse. Although Lhamo and Skalbe appear together in the film's title, they're only occasionally on the screen at the same time, with Gyal preferring to focus more on the individual impact of the upset. This leads to something of a battle for focus between the two, with neither story ultimately as satisfying as it might have been due to the scattered way in which they are both observed. Also distracting is a decision to have cinematographer Meng Wang repeatedly follow the back of someone's head as they walk somewhere.
Production companies: Tongde County Garuda Film & TV Culture Communication Co, Ltd, Sichuan Million Cheer Culture Media Co, Ltd.
International sales: Rediance, info@rediancefilms.com
Producer: Sonthar Gyal, Jiamei Feng
Screenplay: Sonthar Gyal
Cinematography: Meng Wang
Production design: Daktze Dondrub, Tsering Dondrub
Editing: Matthieu Laclau, Sangdak Jyab, Tsering Wangshug
Music: Ye Liu
Main cast: Sonam Nyima, Dekyid, Sechok Gyal