Dir/scr. Federica Di Giacomo. Italy/France, 2016, 89 mins.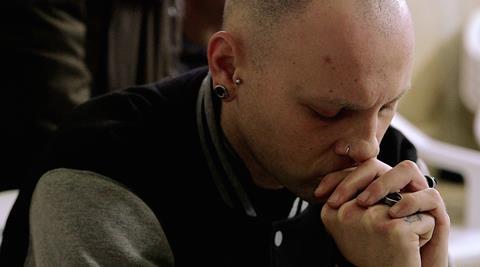 Providing a sober look at an area more typically relegated to horror movies, Federica Di Giacomo's Liberami explores the Sicily-based exorcism efforts of Father Cataldo, a veteran sought out in increasing numbers by Catholics who suspect they may be possessed. It's an intriguing subject that is bound to attract audience interest following the documentary's Venice Horizons premiere, with streaming platforms likely to prove a successful distribution arena beyond the festival circuit.
Liberami probes the psychological underpinnings of the current exorcism boom
Indeed, if the topic alone doesn't entice enquiring viewers, then Giacomo's candid, empathetic and non-sensationalist approach to her third documentary feature (following 2006's The Cave Side of Life and 2009's Housing) definitely should.
In Liberami's opening scene, a priest lays his hands on the head of a woman seeking his spiritual assistance. She swiftly becomes physically unsettled and verbally agitated; however any specific behaviour that might have felt at home in William Friedkin's iconic supernatural thriller The Exorcist — sans head-spinning, of course — is only part of the film's focus. More instances of potential possession will follow, but, in a film that was co-written with Andrea Zvetkov Sanguigni and won the Solinas script prize in 2014, so does an exploration of the everyday reality of unhappiness, uncertainty and general malaise possibly motivating such outbursts.
The observational and attentive factual chronicle is fascinated by the reasoning behind rising incidences, as well as the growing call for the Catholic Church's services around the world as a result. Just what inspires so many men and women to flock from far and wide, and for exorcism sessions to become ritualised regular appointments, remains not only one of the film's main questions, but its driving force.
Working with cinematographers Greta De Lazzaris and Carlo Sisalli, who favour crisp, naturally lit, fly-on-the-wall imagery, Giacomo watches as Father Cataldo and his fellow clergymen see to those in need. Outside of the weekly Tuesday mass many attendees hope will cure their afflictions, they discuss their line of work. "This is an exhausting job and they don't even realise it — I console myself by saying the Lord wants this," one offers. Peering into the lives of those on the other of the spiritual divide too, the documentary also follows several believers home to chart what happens after the church's intervention.
As deftly and elegantly spliced together by editors Aline Hervè and Edoardo Morabito, Liberami moves between moments which are equally revelatory, absurd, thought-provoking and moving. When it's not sharing private chats between priests, including at a conference for exorcists in Rome, it's capturing the unguarded emotions of those requesting their help. Footage of Father Cataldo undertaking his role via phone stands out, not only due to his method of communication, but thanks to the gruff voice that barks back at him through the handset.
Liberami probes the psychological underpinnings of the current exorcism boom — and though many can never be satisfactorily resolved, common threads emerge. "If I'm not possessed, then I'm mad," comments one woman during a conversation dissecting her transitions between lucid and muddled states. The priests have their own theories, predicated upon the need for validation and attention: T devil is a cure-all," one remarks.
An on-screen stream of post-script text might not provide answers but it does give additional context, detailing the extent of the demand in Italy, France, Spain and the US. And, to bring the documentary to a close, the clap-heavy, choir-accompanied crooning of Dead Man's Bones' Lose Your Soul — as sung by none other than band member Ryan Gosling — proves a suitably moody, musing ending note.
Production company: Mir Cinematografica, Rai Cinema, Opera Films
International sales: True Colours, catia@truecolours.it
Producer: Francesco Virga
Executive producers: Davide Pagano, Francesco Virga
Co-producer: Paolo Santoni
Associate producers: Marco Calò, Andrea Zvetkov Sanguigni, Anna Maria Mayda
Screenplay: Federica Di Giacomo, Andrea Zvetkov Sanguigni
Cinematography: Greta De Lazzaris, Carlo Sisalli
Editors: Aline Hervè, Edoardo Morabito