Notable Critic's Week debut from Catalan director Clara Roquet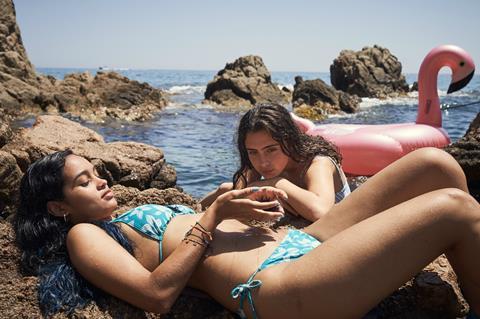 Dir/scr: Clara Roquet. Spain/Belgium. 2021. 104 mins
Teenage female friendship can be an unstable and explosive entity, a delicately balanced chemical reaction which can ignite or fizzle depending on the hormones, jealousies and interwoven emotions at play. Clara Roquet's eloquent first feature captures the quicksilver charge of an intense bond that develops and dissolves between reserved 15 year-old Nora (Maria Morera) and Libertad (Nicolle Garcia), the stroppy, self-sufficient daughter of Nora's grandmother's maid, both Columbian natives now working in Spain (the film shot on the Costa Brava). It's a relationship which is striated by class divisions and sexual tensions. But for a while at least, they're inseparable. Roquet's intimately textured filmmaking captures not just the hot and cold currents of sentiment between the girls, but how all-consuming and all-important it feels to the sheltered Nora.
Both actresses are impressive although Maria Morera, in the less showy role, is a stand out
Roquet's filmmaking is light of touch and instinctively perceptive, honing in on the tiny details which are magnified through the lens of adolescence. There's a kinship with the work of Céline Sciamma, in the way that the film effortlessly navigates the mess of teen female dynamics; and with Lucrecia Martel, in the way that class seeps into every interaction. Roquet, whose writing credits include Jaime Rosales' Petra, might not yet be quite as distinctive a director as either, but this Cannes Critics Week picture, which should enjoy festival interest and possibly a limited arthouse release, marks her out as a notable rising talent to watch.
Nora, when we meet her, is teetering on the brink of womanhood. Her family's holiday house, home to her grandmother (Vicky Peña) and loftily perched on a hill above a rough little resort town, is the site of numerous childhood summers. But the grandmother is retreating into the mist of Alzeimer's, and the house, despite its tennis court and pool, is losing its sheen. To Nora's mother, Teresa (Nora Navas), the signs of decay in the building are emblematic of the way her own mother, once a formidable matriarch and the hostess of legendary parties, is drifting away from her. To Nora, the house is a gilded prison, shackling her to her childhood and keeping her from the unknown thrills beyond the gate.
Then Nora spots Libertad (the name suits her). Reunited with her mother for the first time since they parted when the daughter was five and the mother left to work abroad, Libertad is slinky self-confident. She makes no effort to conceal her displeasure at being uprooted from her life in Colombia. But for a while at least, she allows Nora to join her on forays to forbidden local bars, a tongue-tied partner in crime as Libertad basks in the attention which is her due. Both actresses are impressive – Garcia's laser-etched dimples and fickle favours are deployed to great effect. But Morera, in the less showy role, is a stand out. In a nightclub for the first time, a wallflower while Libertad works the room, her expression captures terror, awe and a touch of triumph as she stands stiffly, not quite sure what to do with her drink.
In addition to female friendship, the film is equally perceptive when it comes to mother-daughter disconnects. Nora's mother mourns the fact that she has been usurped in her own mother's affections – and fraying memory – by the maid. And Nora and her mother clumsily reach out to comfort each other, but repeatedly misread the root of each other's sadness. The pleasing use of rhythms and parallels in the editing highlights the fact that, in one way or another, the lives of each of these women are about to change forever
Production company: Lastor Media, Avalon P.C.
International sales: Playtime info@playtime.group
Producers: Tono Folguera, María Zamora, Sergi Moreno, Stefan Schmitz
Cinematography: Gris Jordana
Editor: Ana Pfaff
Production design: Marta Bazaco
Music: Paul Tyan
Main cast: Maria Morera, Nicolle Garcia, Nora Navas, Carol Hurtado, Vicky Peña