Dir: Konstantin Bojanov. Bulgaria/Belgium/UK, 2017. 102 mins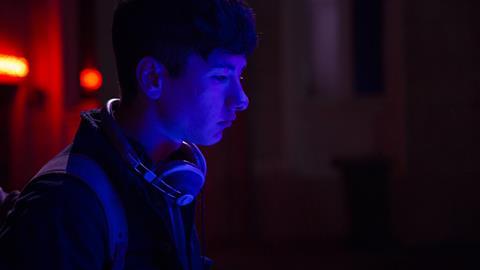 The road to artistic fulfilment is a rocky one that runs backwards in Light Thereafter, by Bulgarian director Konstantin Bojanov. Unfortunately, this road is also strewn with clunkily-written banalities about the agony and ecstasy of artistic creation, and it's a tribute to young Irish lead Barry Keoghan that his candour and energy keep the viewer engaged on what might otherwise have been an arduous trip.
This is a very male drama, with Pavel's journey to self-discovery eased by women who obligingly disrobe or engage with him sexually.
Old-fashioned in feel, notwithstanding its construction, Light Thereafter may fall in the gap between the upmarket mainstream and the art house, bringing little that's fresh enough to spark with either audience.
The film begins with a delicately photographed sequence showing a young man bathing in the sun's rays, his face and body liberally smeared with paint. This is 16-year-old autistic Pavel (Keoghan), a passionately committed aspiring artist from London – although he identifies himself as Bulgarian – who has travelled solo to France on a pilgrimage to visit famed painter Arnaud (Kim Bodnia).
Summoned into the maestro's presence, Pavel is promptly disabused about the nature of his vocation: "Art is the opposite of love! It's isolation – it's discipline!" At this point, we expect that the film will recount a trial-by-fire apprenticeship, a sort of Whiplash with brushes, with Arnaud as a taskmaster to make J.K. Simmons's jazz martinet look like a big old Care Bear.
Instead, the film runs backwards in a series of chapters, tracing Pavel's journey from London. In an earlier episode, Arnaud challenges the boy to do a nude portrait of his own muse, but the boy declines. A little further back, Pavel has a close encounter with Arnaud's partner Soumaya - Lubna Azabal, turning it up to 11 on the meter of artist's-troubled-muse intensity. Asked what it's like living with Arnaud, Soumaya tells the boy, "It's like playing with fire – after you've already burned yourself a hundred times."
After this, Bojanov mercifully introduces a draft of fresh air, showing Pavel on the road prior to arrival and meeting young French hitchhiker Julie, played by Solène Rigot (recently in Orphelines), a consistently lively and appealing presence in current French cinema. Further episodes find our hero meeting a chancer (Thure Lindhardt) who sets him up with a taciturn prostitute whom Pavel uses as a model; visiting his unhappily married wealthy aunt (Dounia Sichov); and having a face-off at home in London with his mother (Margita Gosheva), an ageing rock chick.
Writer-director Bojanov - following up his debut, 2011's Avé - is himself a practicing artist whose work is seen in the film. So it's all the more surprising to find him recycling the hoary clichés about art spouted by Arnaud - something we might expect from an innocent newcomer to that field. This is a very male drama, with Pavel's journey to self-discovery eased by women who obligingly disrobe or engage with him sexually.
The boy's autism partly functions to bolster the idea of his innocent, untrammeled responsiveness to experience, but it never quite gels dramatically. In any case, Pavel comes across as utterly self-possessed, seems to have little trouble engaging emotionally with others, and displays unabashed sexual self-confidence from the start.
The acting, from an international cast, is decidedly mixed. The strongest supporting contributors are Rigot, Sichov and Slimane Dazi, in a brisk cameo as a voluble driver. And 2015 Screen Star of Tomorrow Keoghan – from Norfolk and Mammal, soon to be seen in Christopher Nolan's Dunkirk - can be mannered, but is never less than engaging and vital. Conversely, Azabal offers a frankly barmy display, while the usually solid Bodnia fails to convince as a testy, bullet-headed patriarch. Nenad Boroevich's cinematography is elegant and well-textured, in a familiar, aestheticised mode of art-cinema realism, but it gives an elegant polish to a film that in dramatic terms is decidedly undervarnished.
Production companies: Multfilm, Left Field Ventures, Film and Music Entertainment
International sales: Latido Films, latido@latidofilms.com
Producers: Mila Voinikova, Konstantin Bojanov, John Engel, Mike Downey, Sam Taylor
Screenplay: Konstantin Bojanov
Cinematography: Nenad Boroevich
Production design: Sabina Christova
Editor: Anja Siemens
Music: Michelino Bisceglia
Main cast: Barry Keoghan, Thure Lindhart, Solène Rigot, Lubna Azabal, Kim Bodnia, Dounia Sichov