Lupita Nyong'o and Josh Gad fight the undead on a kindergarten school outing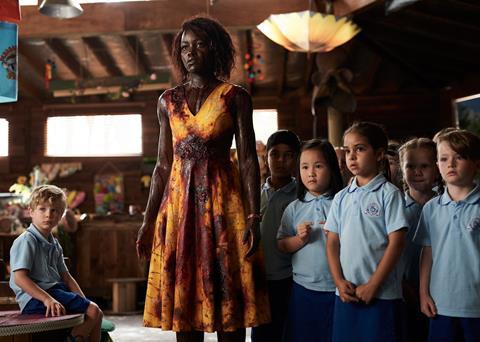 Dir/scr: Abe Forsythe. Australia. 2018. 94 mins..
From Shaun of the Dead to Zombieland to the more recent Anna And The Apocalypse, there has been no shortage of zombie-survival comedies in recent years, so much so they've even gotten their own moniker, the "zom-com." Sydney-based filmmaker Abe Forsythe's recent contribution Little Monsters doesn't exactly reanimate the popular subgenre in novel ways, but there's enough humorous gags, suspenseful scares, fleshy gore, and quite surprisingly, a dash of heartfelt sentiment, to make for an amusing thrill-ride.
For all of its shots of zombies feeding on human entrails, this film has a big, beating sentimental heart at its core
Inspired by Forsythe's young son's real-life kindergarten teacher, Little Monsters imagines a children's field-trip to an Australian farm gone horribly wrong. Shortly after visit to the petting zoo, they find themselves overrun by an invasion of man-eating undead humans, and it's Miss Caroline's job (Lupita Nyong'o), along with their chaperone Dave (Alexander England), to save them.
Shortly after the film's midnight Sundance premiere, theatrical distributor Neon and streamer Hulu jointly purchased US rights, signaling the film's potential as both a big-screen commodity and a genre item suited for home streaming; brisk worldwide sales should follow suit. But Little Monsters is also a strange in-between hybrid. Could it be too sweet for the horror crowd and too vulgar or gross for those looking for an innocuous laugh? Forsythe doubles-down on the cross-breeding, with a script that is filled with crude, expletive-laden jokes, a wild supporting turn by Josh Gad as an alcoholic, mean-spirited, sex-addicted child performer named Teddy McGiggle, and also cute kids singing Taylor Swift and Neil Diamond, alongside a main character who learns to grow up and earnestly accept some responsibility in life.
When we first meet Dave, he's the ultimate loser—afraid to have a kid of his own, his girlfriend has left him, and he's sleeping on his sister's couch. When he meets his nephew's kindergarten teacher (Nyong'o), he's immediately infatuated (going so far as to masturbate to the school picture). When given the chance, he quickly volunteers to go on their next field trip to get to know her. The film's early section is all set-ups, prepped to pay off later, from Dave's slacker identity to his nephew's love for tractors and dressing up as Darth Vader.
When the zombie outbreak occurs on the farm, spurred on by a mishap at a neighboring US Army test facility, Miss Caroline does everything in her power to shield the kids from trauma ("one, two, three, eyes on me!"), or getting eaten ("it's like tag"), while Dave learns to take care of the children, and McGiggle freaks out, cries, screams, drinks whatever he can find, and comes close to sabotaging all of their safety.
Little Monsters is good fun, with some genuinely gruesome and threatening zombies, but it also lacks any kind of breathtakingly staged set-piece or imaginative direction (what you might see from Edgar Wright). When Miss Caroline discovers that decapitating the undead is the best way to immobilise them and runs straight into a horde of zombies with a shovel, it's entertaining, sure, but it doesn't have the triumphant oomph one might hope for. Forsythe is much more successful with lower key gags. A slow-moving farm tractor, for instance, doesn't seem like it would be the best way to escape throngs of zombies, but remember, the enemy here also operates at a leisurely pace. Likewise, another clever joke involves a kid who wants to play "putt-putt" miniature golf throughout the movie and finally gets his wish in a way that's entirely befitting the movie.
The entire cast is game for such silly exploits: Nyong'o makes for an endearing and caring teacher-hero; while England embodies the quintessential likeable loser, and Gad delivers plenty of hyperactive comic relief and foul-mouthed one-liners. The characters themselves may be a bit too broad for any actual emotional connection, but Forsythe appears to be coming from a very genuine place as a storyteller and a new father. Indeed, what Little Monsters may be most appreciated, or derided for, depending on the audience, is that for all of its shots of zombies feeding on human entrails, the film has a big, beating sentimental heart at its core.
Production Companies: Made Up Stories, Snoot Entertainment
International sales: Protagonist, info@protagonistpictures.com
Producers: Jodi Matterson, Bruna Papandrea, Steve Hutensky, Keith Calder, Jess Wu Calder
Executive Producer: Jeanne Snow
Production Design: Sam Hobbs
Editors: Drew Thompson, Jim May
Cinematography: Lachlan Milne
Music: Piers Burbrook de Vere
Main cast: Lupita Nyong'o, Alexander England, Josh Gad