Dir: Ben Affleck. US. 2016. 129mins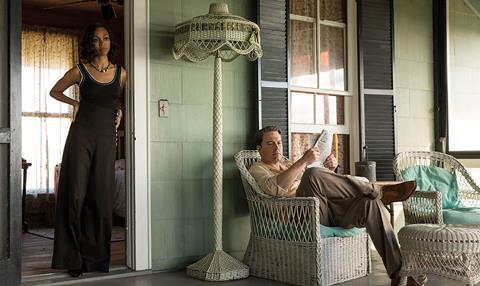 A gangster movie without a killer instinct, Live By Night looks resplendent in its period costumes and moody décor, but writer-director-star Ben Affleck never burrows into the genre's knotty moral complexity or honour-among-thieves worldview. Based on the acclaimed novel from Dennis Lehane, whose book Gone Baby Gone provided the grist for Affleck's directorial debut nine years ago, this Prohibition-era drama deals limply with themes of loyalty, love, power and redemption, but not in any unique way, its emotional punch as vague as its cipher of a main character.
Live By Night is a handsomely mounted waxwork of a gangster picture — one that's in thrall to Warner Bros. classics like Angels With Dirty Faces.
Set for a limited Christmas Day release in the States before opening wide in the US and UK on January 13, this Warner Bros. offering will benefit from Affleck's box office appeal — as well as the fact that his last directorial effort, Argo, was a Best Picture-winner. But despite attracting adult audiences with a fondness for gangster movies, this brooding drama probably won't inspire glowing reviews, and its lack of a fresh commercial hook may only further test its box office prospects.
Affleck plays Joe Coughlin, a World War I veteran who returns to Boston vowing that he's through with killing. Sure, he's a crook who leads a gang that knocks off banks, but he refuses to get involved with the city's powerful Irish and Italian crime families, insisting he's not a gangster. But after his torrid affair with the Irish boss's girlfriend Emma (Sienna Miller) becomes public and she's murdered, Joe joins forces with the Italian mob boss Maso (Remo Girone) to get back at the Irish, agreeing to oversee and expand Maso's rum-running operations down in Tampa.
Live By Night is powered by a familiar gangster trope: the tortured moral conscience of an antihero who operates under a strict personal code amidst a world of killers and criminals. But once Joe gets in league with Maso, his need for revenge tests that code — even though the results aren't particularly compelling or poignant.
The agonised masculinity that Affleck brought to performances in Gone Girl and The Town mostly codifies into a stolid blandness in Live By Night. His placid portrayal fails to suggest profound torment underneath the surface, and even when Joe falls in love with the innocent local Cuban beauty Graciela (Zoe Saldana), there's little sign of the character's inner struggle to justify his newfound penchant for murder in order to get ahead professionally. His ruthless ambitions to bolster Maso's illegal rum enterprises — and the supposed ethical toll they take on his psyche — are oddly weightless, largely because Joe's personal stake in the outcome never fully registers.
As a consequence, Live By Night is a handsomely mounted waxwork of a gangster picture — one that's in thrall to Warner Bros. classics like Angels With Dirty Faces. That said, all the technical credits are suitably impressive and reverential. Production designer Jess Gonchor gives the late-night Florida speakeasies a lurid, old-school shimmer, and cinematographer Robert Richardson provides deep shadows to the interiors that recall Gordon Willis's chiaroscuro look for the Godfather films.
The film does gain a little momentum when Joe discovers that his greatest adversaries in Tampa aren't going to be mobsters. Instead, he must contend with the Ku Klux Klan's racist disapproval of his fraternisation with people of colour such as Graciela — and later, a born-again former aspiring actress (a suitably brittle Elle Fanning) successfully puts pressure on local companies to pull their financial support for Joe's proposed casino construction. In these sequences, Live By Night hints at a more intriguing direction that Affleck could have taken, illustrating how Florida's various, warring cultures embodied the American melting pot of the early 20th century, which motivated reactionary fears from conservative, bigoted and religious groups.
Unfortunately, these obstacles don't appreciably alter the film's reserved, timid temperament. (Also not helping are perfunctory, underdeveloped performances from Saldana and Chris Messina as Joe's comic-relief sidekick.) Even when some potentially exciting double-crosses and muscular shoot-outs dominate the final reel, Live By Night feels too worshipful of the genre's past greats. Joe may ultimately learn what it means to be a true gangster, but his movie remains afraid to get its hands dirty.
Production companies: Appian Way, Pearl Street
Worldwide distribution: Warner Bros., www.warnerbros.com
Producers: Leonardo DiCaprio, Jennifer Davisson, Ben Affleck, Jennifer Todd
Executive producers: Chris Brigham, Dennis Lehane, Chay Carter
Screenplay: Ben Affleck, based on the novel by Dennis Lehane
Cinematography: Robert Richardson
Production design: Jess Gonchor
Editor: William Goldenberg
Music: Harry Gregson-Williams
Website: www.livebynight.movie
Main Cast: Ben Affleck, Elle Fanning, Brendan Gleeson, Chris Messina, Sienna Miller, Zoe Saldana, Chris Cooper