Dir. Matthew Cullen. UK 2015. 118 mins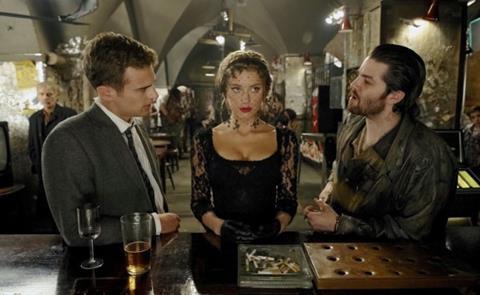 First published in 1989, the Martin Amis novel London Fields offers an exhilarating, three-ring circus of scabrous social satire, hardboiled film noir pastiche and wry self-examination as he explores the creative act of spinning yarns from the raw material of life. Once announced as a project for David Cronenberg, and subsequently for Michael Winterbottom and Shekhar Kapur among others, it finally sees the light of day as a lushly ambitious debut feature from Matthew Cullen.
Jim Sturgess gives a barnstorming performance that leaves over-the-top as an inadequate description
Cullen captures some of the swashbuckling, smugly self-regarding spirit of the novel but the lurid excess and brash satire are an overpowering mixture. The reputation of the novel and the attractive cast (including an uncredited Johnny Depp) might prove a draw for audiences but this seems more like a film with cult potential rather than mainstream appeal. Reminiscent of Dennis Potter's landmark television series The Singing Detective, it also wedded to the era in which it was written and risks feeling dated. Perhaps the boat has already sailed on this long delayed venture.
Ailing American novelist Samson Young (Billy Bob Thornton) arrives in decaying, riot-torn London to stay in the palatial apartment of fellow writer Mark Asprey (Jason Isaacs). His weary, fatalistic tone is heard in lengthy voice-over as he becomes the unreliable narrator of the events that follow. He quickly seems to stumble upon the ingredients for a perfect crime thriller that might end his years of writer's block.
Those ingredients are simple: a seductive femme fatale Nicola Six (Amber Heard in male fantasy Jessica Rabbit mode) and two men who compete for her hand. Gifting Nicola with an ability to see the future means that she already knows the time and place of her death. All that remains is to figure out who will be responsible for the fatal deed. The novel The Murdereee almost writes itself.
The two men are very much a well cast study in contrasts. Theo James is all Saville Row suits and kind-hearted concern as decent, clean-cut millionaire Guy Clinch. Jim Sturgess doesn't hold back as sleazy taxi driver and darts player Keith Talent. He gives a barnstorming performance that leaves over-the-top as an inadequate description. His greasy hair, swaggering manner, tattoed torso and permanently gurning, grimacing face make for a totally repellent figure. Sturgess plays it to the hilt from a triumphal Gene Kelly dance in the rain to a wardrobe of capes and leopard prints that lend him the appearance of Elvis Presley, if the King had dressed in the dark. It is an admirable force of nature display of acting technique but it is still an exhausting business spending time in this character's company.
A scar-faced Johnny Depp appears to have retained his eye-popping Mad Hatter wardrobe and his Keith Richards pirate accent as dodgy geezer and talented darts player Chick Purchase. He adds to the grotesque, Hogarthian sensibility of the piece.
Cullen seems to thrive on sensory overload, punctuating the film with sharply edited collages of apocalyptic doom from meteors hurtling towards earth to the mushrooms clouds of nuclear explosions heading towards the heavens. Riot, conflict, a sense of time running out are a constant part of the film reflecting the way that Samson is writing against a ticking clock.
London Fields unfolds like an Arabian Nights tale in which you are constantly reminded that the writer is a master puppeteer manipulating events to his ends and leading us up the garden path. Perhaps none of it is even true and it is just an imaginative response to Amis's fears about writer's block, decay and the death of his creativity. Amis has the briefest of cameos to lend his seal of approval to the enterprise.
London Fields overflows with interesting ideas but they are frequently buried under lurid fantasy sequences, blunt-edged satire and the sense that it is much more amused by its own wild daring than we are.
Production Companies Hero Entertainment, Muse Productions, Media Talent Group, Lip-sync
International sales IM Global info@imglobalfilm.com
Producers Jordan Gertner, Chris Hanley, Geyer Kosinski
Screenplay Roberta Hanley, Martin Amis based on his novel
Cinematography Guillermo Navarro
Editors Joe Plenys, Fred Fouquet, Mitch Cullen, Matthew Cullen
Production design Jerry Reed
Music ToyDrum, Benson Taylor
Main cast Billy Bob Thornton, Amber Heard, Jim Sturgess, Theo James, Jason Isaacs, Johnny Depp