Dir. Babak Najafi. US, 2016, 99 mins.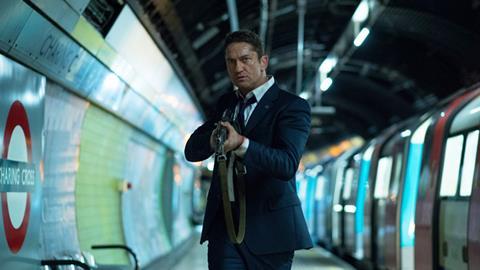 Raining vengeful cheese on the enemies of the USA and her allies, Gerard Butler packs his best Liam Neeson squint to defend the British capital single-handedly in London Has Fallen. A follow-up to 2013's Olympus Has Fallen, which surprised the world with a $168m take, this is the love-child of The Bodyguard and Taken, and, indeed, can be equally entertaining in much the same preposterous way – at least in its early parts. But creepy "send them back to Fuckheadistan" sentiment overwhelms London Has Fallen's guilty pleasures, its meaty violence and xenophobic nastiness giving the cheddar an unpleasant aftertaste.
It's hard to read which demographic London Has Fallen is aiming for – right-wing militias?
Director Babak Najafi (Easy Money II: Hard To Kill) struggles to turn the giant wheel of this nascent Millennium Films/G-Base franchise (the original was directed by Anton Fuqua). Opening globally this weekend, London Has Fallen is unlikely to win over many critics, but neither did its sire, which laughed all the way to the bank. Carrying a 15 rating in the UK, this is a tub-thumping assault with iffy racist undertones which looks, by its final sequences, very much like a video game and ends with the rallying words: "God Bless The USA!". Word-of-mouth could be tepid.
It's a shame, in a way. When London falls, it's quite spectacular – world leaders assembled for the UK Prime Minister's funeral in either St Paul's or Westminster Cathedral (it's unclear which edifice Najafi is opting for) are taken out by rogue British police and emergency services and the US president escapes to a helicopter dog-fight in the skies above the Houses of Parliament. Although London Has Fallen's approach to the UK capital's topography is akin to tossing up a set of Monopoly cards and filming where they land, it's a lot more exciting than last year's Spooks, and it's got Aaron Eckhart returning as the President, Angela Bassett back as head of the secret service, and Morgan Freeman as the Veep (the film is knowing enough to play heroic music when Freeman first appears).
By the end, though, it's Gerard Butler in a subterranean soundstage in Bulgaria, delivering one-liners including "I'm thirsty as fuck!" for laughs as he bloodily impales squadrons of leering Asians. It's hard to read which demographic London Has Fallen is aiming for – right-wing militias? – but even they're likely to come out feeling a little grubby after the film mines Twin Towers paranoia to get to a climax with a threatened decapitation for its cheap kicks. "We live in a dangerous world and have few good options," says Freeman: this appears to be the excuse for a spree of killing that makes Taken look like an Amnesty International mission statement.
Presidential protection agent Mike Banning (Butler, producing through his G-Base) may be made of "bourbon and bad choices", but he's about to become a father and is on the point of tendering his letter of resignation when the UK's Prime Minister suddenly dies in his sleep and he's forced to make hurried security arrangements for his best-buddy President Asher (Eckhart) to attend the funeral. Viewers know, however, thanks to an extended prologue, that there's an arms dealer (Alon Moni Aboutboul) outside Lahore who's mad as hell after a drone attack killed his family and has spent the last two years plotting his revenge.
World leaders assemble – from a female German premiere to an Italian prime minister with a sexy young girlfriend ("Madonna, que suceso!?"). It's certainly a surprise to all – viewers included — when British bobbies and ambulance men turn their guns on the leaders and the capital descends into a 9/11 chaos. Air raid sirens sound. Then a TV newsreader declares that "terror attacks have decimated most of the known landmarks of the British capital" (what exactly is an unknown landmark?) to bring us back to the cold reality of another 50 minutes to go wth this silly film.
Logistically, London Has Fallen is impressive for its class, shooting in Rajasthan for the prologue, Millenium's Nu Boyana studios in Bulgaria where Mayfair and Soho were recreated (not that the film seems to know the difference between the two), in Pinewood and on location in London and around the UK's home counties. Even if it feels a little geographically muddled, though, the shots are fairly seamless and London Has Fallen is not one of those films which is so CGI-laden it's cartoonish.
If only the same could be said for its characters. Seqences with Banning's wife (played by Radha Mitchell) and impending fatherhood are a failed attempt to give the agent a personality, someone the audience can root for past Americans and Brits vs. faceless muslim villains. Banning's domestic situation feels more like a plot device for the inevitable sequel, though, his child destined to be kidnapped in Paris - or wherever has the best tax rebate when the next Fallen comes around.
Production companies: Millennium Films, G-Base
International sales: Nu Image, sales@nuimage.net
Producers: Mark Gill, John Thompson, Matt O'Toole, Les Weldon.
Executive producers: Avi Lerner, Trevor Short, Boaz Davidson, Christine Otal Crow, Heidi Jo Markel, Zygi Kamasa, Guy Avshalom.
Screenplay: Creighton Rothenberger & Katrin Benedikt and Christian Gudegast and Chad St John, from a story by Rothenberger and Benedict
Cinematography: Ed Wild
Editors: Paul Martin Smith, Michael Duthie
Production designer: Joel Collins
Music: Trevor Morris
Main cast: Gerard Butler, Aaron Eckhart, Morgan Freeman, Angela Bassett, Alon Moni Aboutboul, Jackie Earle Haley, Melissa Leo, Radha Mitchell, Charlotte Riley, Waleed F. Zuaiter