Dir: Rémi Chayé. France/Denmark. 2015. 81mins.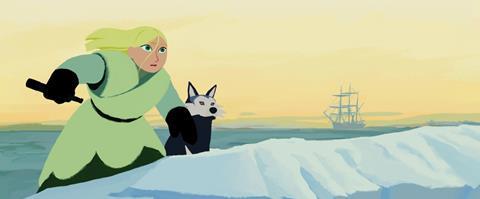 Long Way North is a beautifully-told, animated story about a 15 year-old Russian girl who embarks on an adventure to the North Pole in order to find her grandfather's ship and save her family's honour. Visually stunning, it was co-produced by French studio Sacrebleu Productions along with other production houses including Danish animation company Nørlum, and while it's unlikely to receive wide exposure, this could easily find a comfortable niche amongst those searching for accomplished animation, boosted by favourable word of mouth.
The story is related in an enchanting manner with equal focus on the animation as well as strong character development.
Festival invitations including the Busan International Film Festival (BIFF) where it screened in the Wide Angle – Animation Showcase, should also aid in providing Long Way North with further attention. (It also won the Audience Award at the Annecy Film Festival in June.)
Set in 1892, the plot is centred on Sasha, a young Russian aristocrat who lives with her parents in Saint Petersburg and is very close to her explorer grandfather, Oloukine. He fails to return from his latest expedition to the North Pole, and Sasha is horrified to realise that is reputation is being tarnished when she overhears the Tsar's new scientific advisor, Prince Vladimir Tomsky,describe him as a "megalomaniac".
Sasha's father Count Chernetsov, who is seeking a nomination to become the Russian Ambassador in Rome, invites the prince to a ball the family is hosting. There she asks him to help in the search for her grandfather's boat, believing that they have been looking in the wrong place, but he adamantly refuses. Determined to restore her family's honour, she sets out to find the famous ship, the Davia, which cost the Russian empire a fortune to build and is said to be unsinkable.
Opening with a spectacular sequence of Sasha waving her grandfather off as he sets off on his final expedition, the deft 2D animation here demonstrates the format's uniqueness, giving the film an extra dimension. The cello-influenced score by Jonathan Morali is appropriate and effective, not distracting but reinforcing the animated images on display.
Screenwriters Patricia Valeix and Claire Paoletti together with director Rémi Chayé (his feature debut) have constructed and delivered a story that leaves a palpable impression. While it doesn't sail into new territory, Long Way North is told in an enchanting manner with equal focus on the animation as well as strong character development.
Production Companies: Sacrebleu Productions, Maybe Movies, Nørlum
World Sales: UDI, delphyne@urbandistrib.com
Screenplay: Patricia Valeix, Claire Paoletti
Production Design: Andrzej Radka, Lionel Marchand
Animation: 2 Minutes, Nørlum
Music: Jonathan Morali
Editing: Benjamin Massoubre
Voices: Christa Théret, Féodor Atkine, Thomas Sagois, Rémi Caillebot, Audrey Sablé