A woeful romance set between Paris and Beijing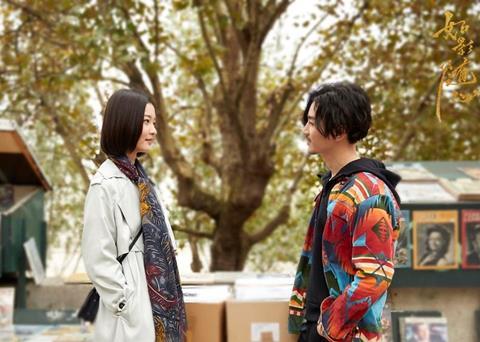 Dir: Huo Jianqi. China. 2019. 96 mins
Although neither of the leads in Lost In Love ever actually utters the line "we'll always have Paris", that is the overwhelming sentiment of this woeful romance concerning star-crossed lovers whose relationship starts passionately in the French capital only to dissipate once home in Beijing. The latest in a sporadic run of upscale dramas to address the dilemmas facing China's growing middle-class – see also Spring Subway (2002), In Love We Trust (2008) Caught in the Web (2012), and Lost, Found (2018) – this one arrives with a marketing campaign that teases a racier than usual take on urban ennui. Yet it's a relatively tame cinematic affair with an hour or so of tepid soul-searching bookended by touristic shots of the Eiffel Tower.
Unable to satisfy the audience with substance, Huo ups the style quotient with risable results
As its storyline is indistinguishable from the plethora of television and Internet dramas readily available to its target audience, Lost in Love is unlikely to be an enticing big screen proposition in the domestic marke, and international appeal seems almost nonexistent.
In Paris on a business trip, divorced interior designer Yu Wen (Du Juan) meets violinist Lu Song (Chen Xiao) when they squabble over a Édith Piaf album at a street market. Swiftly realising that they are kindred spirits, these hopeless romantics have a torrid fling despite Lu Song being married. Back in Beijing, he leaves his wife and moves into a gorgeous, warehouse-style apartment with Yu Wen to prolong their honeymoon period. But trouble is brewing.
Despite accepting Lu Song's marriage proposal, Yu Wen develops nagging doubts about his level of commitment when his bitter ex-wife, Li Juan (a histrionic Ma Su), starts to write about their marriage in a series of a candid blog posts with each update causing further rupture. Yu Wen experiences embarrassment at work while Lu Song considers whether walking out on Li Juan and their three-year-old son was the right choice.
As one of the more establishment-friendly Fifth Generation filmmakers, Huo Jianqi has never achieved the international recognition of his contemporaries, but his poetic rural portrait Postmen in the Mountains (1999) and working class commentary Life Show (2002) demonstrated an emphatic understanding of ordinary lives. This affinity doesn't extent to the middle-class, though, as the protagonists here are ciphers who talk as if their circumstances are profoundly unique when they are actually common in a country with a rising divorce rate. "In each others' eyes, we are cheaters of love", muses Lu Song, yet the matters that he and Yu Wen have been hiding from one another are merely trivial.
Perhaps mindful that adultery is still considered a primary example of moral corruption in China, Huo goes out of his way to justify unfaithful behavior by portraying Lu Song's marriage as a deeply unsuitable union. However, this prompts one to wonder how they came to be together in the first place rather than consider the changing values structures in China's big cities. The same applies to the divorced Yu Wen who, in a flashback, is subjected to a lecture-cum-rant from her emotionally distant doctor husband (Herman Hu) about how she is a slave to the neurochemicals released to the brain when in love. In a film packed with howlers, it's one of the few that is (probably) intentional, but the past relationship it sketches doesn't feel remotely credible.
Unable to satisfy the audience with substance, Huo ups the style quotient with risable results. Slow motion scenes depictions of romantic infatuation alongside the River Seine or in hotel corridors pad the running time, the motifs (rose petals, tattoos) are cliché'd, and dramatic moments occur during heavy rain or snow. Utilising lashings of deep red, Zhang Shiming's splashy production design implies that the couple's lack of individual fulfillment (she wants to paint, he is stuck playing corporate benefits) has been caused by consumerism, although this theme remains under-developed. As the floundering lovers, Chen is a listless presence but model-tuned-actress Du is at least in her element amidst the cosmopolitan lifestyle trappings. Lost in Love often looks like one of her luxurious fashion spreads and is just as glossily artificial.
Production companies: Cosmic Bliss, Wanda Pictures
Producer: Li Xiping
Screenplay: Huo Jianqi
Production design: Zhang Shiming
Editing: Kwong Chi-Leung
Cinematography: Zhao Lei
Music: Chen Chien-Ci
Main cast: Du Juan, Chen Xiao, Jevon Wang, Ma Su, Herman Hu