Director: Jean-François Laguionie. France, Canada. 2016. 75 mins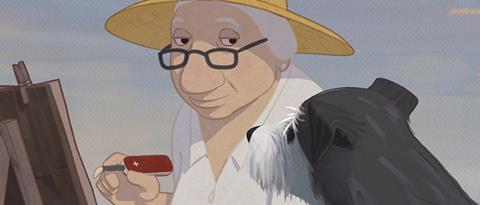 Veteran French animator Jean-François Laguionie first visited the Annecy International Festival of Animation in 1965. His first short film, La Demoiselle Et Le Violoncelliste, won that festival's grand prix the same year. The gratifying sense of continuity that comes with the world premiere of his latest feature, Louise By The Shore, at the same festival over half a century later accounts for some, but not all, of the goodwill towards this gentle, highly personal film.
With her humour, quiet determination and lack of fear of the future, Louise is a delight – a Robinson Crusoe in pearls and a panama hat.
Animation has traditionally been one area of filmmaking where the over-sixties narrative cut-off does not apply. Elderly protagonists are a regular fixture in animation. But few have a the resilient spirit and pluck of Louise, the little old lady who misses the last train from the Breton seaside resort where she habitually spends her summers and finds herself a castaway, marooned in a deserted town with just her memories and a shabby old dog for company.
The relationship between Louise (Dominique Frot) and the dog Pepper (voiced by Laguionie) is reminiscent of that between the old man and his dog in Paul and Sandra Fierlinger's My Dog Tulip, and this charming film should resonate with a similar audience. Pleasingly animated and unexpectedly idiosyncratic at times, this should find a warm reception on the festival circuit and, with critical support, it could go on to enjoy moderate theatrical success with arthouse audiences.
Traditional animation techniques are melded with more technologically advanced methods to pleasing effect. Laguionie's original drawings provided the source material which was then brought to life using 3D computer animation. This was subsequently flattened in order to regain the texture of the Laguionie's penmanship.
Laguionie, who has spent a lot of time in Brittany and Normandy, brings the seasons to life with evocative use of colour. The summer is rendered in chalky pastels; the storm that strands Louise bruises the skies with purples and inky blues: "Each morning, I discover a new sky." Forced to survive alone, Louise finds herself grow naturally in tune with the rhythms of this exposed spit of land. She moves out of her waterlogged holiday home and builds herself a shack on the beach. She shares the expanse of sand with plovers and gulls which have lost their fear of humans. With Pepper, the dog that lived in the municipal dump, she takes long shoreside walks, the dog "pretending to sniff the sand tactfully," whenever Louise gets left behind.
The enterprising old lady's tale of survival is bolstered by glimpses of her memories, of her childhood and early teens spent at the same wild stretch of coastline. These increasingly elusive shadows from the past, coupled with the fact that Louise is seemingly not missed by anybody, encourages us to think of her adventure as an allegory for aging, or perhaps even death. As such, it is unexpectedly upbeat. With her humour, quiet determination and lack of fear of the future, Louise is a delight – a Robinson Crusoe in pearls and a panama hat.
Production company: JPL Films, Unité Centrale
International sales: Films Distribution, www.filmsdistribution.com
Producers: Jean-Pierre Lemouland, Galilé Marion-Gauvin
Screenplay: Jean-François Laguionie
Animation: Johanna Bessière
Editor: Kara Blake
Artistic Direction: Lionel Chauvin
Music: Pascal Le Pennec, Pierre Kellner
Main cast: Dominique Frot