Dir: Jeff Nichols. US, 2016, 123 mins.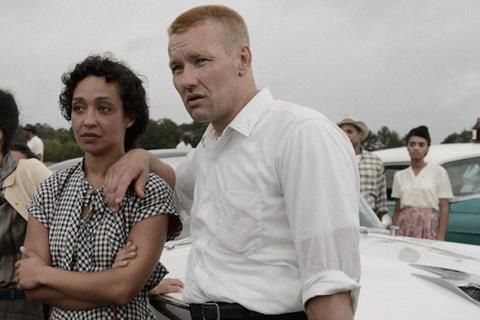 Telling the true story of Richard and Mildred Loving, an American inter-racial couple whose marriage in 1958 sparked a legal battle that went all the way to the Supreme Court, writer-director Jeff Nichols favours a stripped-down style that eschews the theatrics usually associated with this sort of inspirational tale. Though commendable, that approach ends up having its own pitfalls, resulting in an intelligent but stolid drama that lacks the precise characterisations and region-specific detail that have marked Nichols' superb previous films. Joel Edgerton and Ruth Negga play the Lovings as refreshingly ordinary people caught up in the swirl of history, but a benign tastefulness overcomes Loving, smothering chances of a meaningful engagement with the material.
Negga is Loving's spiritual centre…[exuding] a shy sweetness that slowly emerges.
In competition at Cannes, Loving is set for US release on November 4, a clear indication that Focus Features feels they have an awards contender on their hands. Certainly, the subject matter will draw interest, as will solid-but-perhaps-unspectacular festival reviews, but flashier and more accomplished films may eventually dampen Loving's Oscar buzz.
Starting in 1958 and spanning 10 years, the film stars Edgerton and Negga as Richard and Mildred, lovers with a child on the way. Unable to marry in their segregated home state of Virginia, they wed in Washington, D.C., only to be arrested once they return. After trying to make a life in Washington, Mildred decides she can't raise a family in the city, prompting the couple to set up roots clandestinely back home. The Lovings' situation eventually attracts the attention of the American Civil Liberties Union, which takes up their cause through the courts.
Loving's combination of biopic, issue film and court drama is new terrain for Nichols, who in movies such as Take Shelter and Midnight Special has revealed a keen eye for character dynamics, especially when it comes to families. That aptitude would seem to serve him well in a film about the bond between an embattled husband and wife, but Loving stubbornly stays on the surface, unable to offer many insights into this couple.
To be fair, this is somewhat by design, Nichols and his actors emphasising the ordinariness of the Lovings. Edgerton plays Richard with a stoic, inarticulate nobility — he's the sort of devoted, blue-collar husband who takes care of his family with a minimum of fuss — while Negga pinpoints Mildred's quiet strength. But Nichols doesn't so much elevate his characters' commonness — locating their simple decency and deep, abiding love for one another — as he reduces them to honourable ciphers who become spectators in their own film.
Consequently, Nichols' respectful treatment of their story, which extends to the anticlimactic portrayal of their lawyers' Supreme Court battle, ends up feeling as neutered as the typical inspirational true-life drama, even though Loving has far more care and strategy behind its approach than one sees in awards-season fodder. The movie dutifully details what racism looked like in America in the 1950s and '60s, but Nichols can't find a way into the material to bring the distinctiveness that highlighted his earlier Southern portraits.
Edgerton has no easy task portraying an introverted man who wants nothing more than to make a life with Mildred — he doesn't talk so much as he pushes a few words out of his mouth — but his recessive, distant performance fails to fully capture Richard's depth of feeling or the pressure he experiences as part of this interracial couple. We get a sense that Richard has always felt like an outsider — more comfortable around blacks but unable to reconcile the racial hostility he observes around him — but it's only noted perfunctorily.
Negga is Loving's spiritual centre, the actress subtly revealing Mildred's growing assertiveness once she realizes that she's going to need to be the one to push for legal action since Richard won't bother. There are two societal obstacles against Mildred — she's a woman and she's black — and it's pleasing to see how she navigates restrictive cultural norms to have her marriage recognised in her home state. If Edgerton's taciturn performance is a touch mannered, hers has a shy sweetness that slowly emerges.
Indicative of Loving's disdain for artifice, the supporting cast exudes a chiseled naturalness. Nick Kroll, better known for his comedic television work, is solid as a lawyer defending the Lovings, while Marton Csokas slightly overdoes his role as a bigoted local sheriff. But it's telling that Michael Shannon, playing a Life photographer profiling the Lovings, provides the largest impact despite limited screen time. A frequent Nichols collaborator, Shannon seems to understand instinctively the less-is-more approach the filmmaker prefers — it's just a shame that, with Loving, the tasteful restraint doesn't lead to a greater emotional payoff.
Production companies: Focus Features, Raindog Films, Big Beach, Augusta Films, Tri-State Pictures
International sales: Insiders, sales@insiders-films.com and gfarkas@insiders-films.com
Producers: Ged Doherty, Colin Firth, Nancy Buirski, Sarah Green, Marc Turtletaub, Peter Saraf
Screenplay: Jeff Nichols
Cinematography: Adam Stone
Editor: Julie Monroe
Production design: Chad Keith
Music: David Wingo
Main cast: Joel Edgerton, Ruth Negga, Marton Csokas, Nick Kroll, Terri Abney, Alano Miller, Jon Bass, Michael Shannon