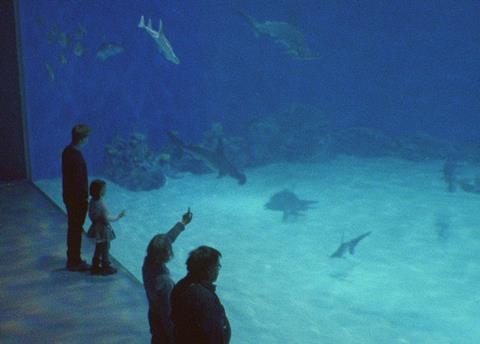 Dir. Daniel Borgman. Denmark, 2017, 100 minutes
Loving Pia is an easy film to like, if you are willing to adjust your attention span. Daniel Borgman's slow no-budget hybrid plays like a documentary as it explores the subtle rhythms of attachment and the fear of loss. Borgman's extended glimpse in soft 16mm into the lives of Pia and her mother, who play themselves, suggests a mission on the part of its director and producer rather than anything commercially-oriented. Yet it will appeal to the dedicated public for films like the meditative documentaries of Nicolas Philibert, and Loving Pia should find support on the festival circuit, as well as small art house releases worldwide.
Saying that Loving Pia is modest doesn't diminish its ambition.
Pia (Pia Skovgaard), 60 years-old, mentally disabled, and lives on a Danish island with her able-minded mother, Guittou (Celine Skovgaard), aged 84. Guittou and Pia know that the older woman is nearing the end of her life, and that there could be no one left to care for Pia in their tiny house. Guittou wants her daughter to move to a group home for people like her. Pia thinks that finding a man might be the answer, but she's never found one before. Dating for the first time is challenging under these circumstances, and delivers a reality check with plenty of punchlines.
Once inside that farmhouse with the two of them, the audience also enters Borgman's blend of charm and fatalism. Both women speak of everyday things in an unadorned deadpan, especially Pia, given her mental incapacity. Daily life for them is gentle and tender, yet we sense something ominous over the horizon. Dating is just the beginning.
Saying that Loving Pia is modest doesn't diminish its ambition. Borgman has created a script from the characters' lives that enters the emotional world of a woman who can't articulate her emotions in more than a few sentences. Pia's goodhearted humour takes you beyond clinical austerity and anthropology and into the complexity of a character, for better or worse. A trip to Copenhagen with the portly taciturn Jens, a potential life-partner, has the unintended consequence of leaving her aged mother alone. Even if you have limited mental capacities, you can still be self-centered.
The gauzy look of 16mm, filmed by Borgman himself, feels as if it's approximating Pia's world view. Light angles in between shadows from the outside in scenes shot inside the women's simple house, suggesting that the mother's days are reaching an end. Pia occasionally makes pronouncements on life and love, which are offered blithely, such as her feelings from afar for the anti-globalist Jose Bove, whom she sees on television and considers a possible mate. Her soft voice can sometimes sound like one of the Teletubbies.
Borgman, to his credit, doesn't make her a Delphic figure or the voice of magic realism. Still, there is some wonderful cinematic magic in Loving Pia, including banter with a goose in the family's yard. A scene where she and Jens attend to a broken shower in a Copenhagen hotel reminds us that innocence can be as endearing at 60 as it can at six.
Loving Pia succeeds in revealing an unlikely star. And the audience will find that it has far more in common with these characters in rural Denmark than with spies or serial killers.
Production companies: Adomeit Film, Danish Film Institute, FilmFyn
International sales: Adomeit Film katja@adomeitfilm.com
Producer: Katja Adomeit
Screenplay: Daniel Borgman
Cinematography: Daniel Borgman
Editor: Sofie Marie Kristensen
Music: Kristian Paulsen
Featuring: Pia Skovgaard, Celine Skovgaard, Jens Jensen, Putte Jensen