A headstrong elderly Chinese woman gets unwittingly involved with a violent New York gang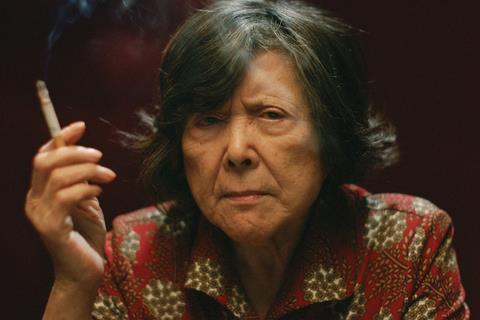 Dir Sasie Sealy. USA. 2019. 87mins
Now that her husband has died, Grandma Wong (Tsai Chin) aims to dedicate the rest of her time to the simple pleasures of life; principally smoking and complaining. But her husband left her penniless and so, rather than give up her freedom and move from her small flat in Manhattan's Chinatown to live with her son in Brooklyn, Grandma Wong decides to cash in on a particularly auspicious horoscope reading and blow her savings in the casino. She ends the evening with a holdall full of banknotes but it's a windfall which comes with strings attached; soon, Grandma Wong finds herself at the centre of a snakehead gang war. This gentle comedy trades heavily on Tsai Chin's deliciously abrasive central performance, but stumbles when it comes to the execution of the action sequences
Chin's expressive repertoire of irritated eye-rolls and emphatic cigarette smoking ensures that the film is at its most satisfying when the camera is trained on her face
It's a promising feature debut from director Sasie Sealy which has enjoyed a warm reception on its festival run. The film wryly captures the flavours of the insular community of first generation Chinese immigrants to America, while also exploring a theme with universal resonance – that of an older woman fighting to retain her agency and independence. And in veteran actor Chin (best known for The Joy Luck Club), it has a formidable asset; scowling through a cloud of displeasure and cigarette smoke, she's a delight. Indeed, Chin's tart charisma will be the main selling point for adventurous arthouse distributors.
It's a character who, in the hands of a lesser actor, could have easily tipped over into caricature. But Chin's expressive repertoire of irritated eye-rolls and emphatic cigarette smoking ensures that the film is at its most satisfying when the camera is trained on her face. There's a terrific wordless scene in which, having squandered everything but her shirt in the casino, Grandma Wong finds herself on the bus home sitting next to the man who won while she was losing. The realisation gradually dawns that he is no longer breathing. And when his bag of cash falls out of the overhead locker and into Grandma's lap, she takes it as an opportunity to be grasped.
Unfortunately, the dead man was an accountant for a Triad gang, and the following day Grandma Wong returns home to find a pair of thugs with shark smiles and veiled threats waiting in her living room. The indomitable old lady sees them off, but, realising that she needs a bodyguard, approaches a rival gang for protection. After ruthlessly bartering the price down – another scene which Chin aces – she ends up hiring Big Pong (Taiwanese actor Corey Ha), a homesick gentle giant who bonds with Grandma over soap operas and stir fried vegetables.
There's a Coens brothers-style absurdity to this tale of inadvertent criminality and a pensioner who elbows her way through the Chinese underworld. A jaunty score by Andrew Orkin emphasises the visual comedy of placing a tiny old lady next to the towering heavy. But while the odd couple friendship between Grandma Wong and Big Pong is pleasingly textured, the third act escalation of hostilities between the gangs and the granny is rather less persuasive. The scenes of violence in particular are handled with markedly less assurance than the rest of the picture. Still, although Grandma Wong doesn't emerge from the action entirely unscathed, she still manages to carry the picture to its amiable conclusion.
Production companies: Parris Pictures; Treehead Films
International sales: XYZ Films info@XYZfilms.com
Producers: Cara Marcous, Krista Parris
Screenplay: Angela Cheng, Sasie Sealy
Editing: Hye Mee Na
Cinematography: Eduardo Enrique Mayén
Production design: Cassia Maher
Music: Andrew Orkin
Cast: Tsai Chin, Corey Ha, Michael Tow, Woody Fu, Eddie Yu