Intriguing study of an army-training simulation exercise in Geneva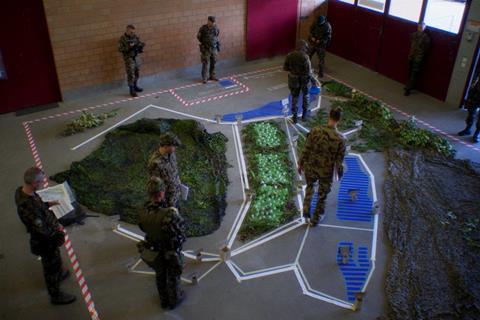 Dirs/scr: Raphael Dubach, Mateo Ybarra. Switzerland 2021. 72mins
Swiss duo Raphael Dubach and Mateo Ybarra avoid merely going through the motions in LUX, their intriguing but overambitious study of an army-training simulation exercise bowing in Thessaloniki Documentary Festival's "Newcomers" competition. Taking a little over an hour to snapshot a ten-day operation involving 1,500 participants in and around Geneva, their brisk episodes comprise dutiful fly-on-the-wall observations punctuated with adventurously impressionistic interludes.
The training exercise becoming a framework and excuse for increasingly abstract and dreamy interludes
The resulting debut — while wobbly in terms of overall focus — show sufficient promise to justify its selection for the Films After Tomorrow initiative at last summer's Corona-impacted Locarno, designed to "salvage" works halted by the pandemic. LUX, named after the October 2019 Geneva exercise, landed the Locarno jury's SRG SSR Award, "guaranteeing a TV promotional campaign worth CHF 100,000 (€91,300) when the film gets released in Swiss cinemas." This lucrative prize will amply boost the film's domestic prospects; it may also play well in the relatively small handful of European countries which retain compulsory military service, including Austria, Sweden, Denmark and Norway.
As the film emphasises in its opening title-cards, Switzerland (with its uniquely complex history in defence matters) boasts an unusual armed-forces structure largely reliant on non-professionals or "citizen soldiers." Given that every adult Swiss male must, by law, spend at least 245 days in the armed forces — a teenage Roger Federer was discharged early due to back problems — many (or perhaps most) of LUX's participants were undertaking national service. The attitude of many seen and heard here is predictably far from "gung ho"; some soldiers sport luxurious locks which would soon be shorn under stricter set-ups
Indeed, one of the chief delights of the film's training-camp first section is the contrast between the loudly barked-out orders issued by the stentorian officers, and the M*A*S*H-style irreverence overheard in whispered exchanges among the half-hearted, miked-up troops ("this is so lame").
The pace quickens around the 20-minute mark when the men (and LUX seems to have been an almost entirely male affair) head to central Geneva to collaborate with local law-enforcement agencies faced with a lethal (fictitious) attack by the shadowy (fictitious) Global Liberation Front. The latter are, topically enough, "anti-capitalistes," adding further revealing contours to the inevitably indoctrinatory subtexts of military training.
The universal patriotic and nation-building emphases of army life take on extra nuance in Switzerland, a land famously containing several discrete languages and cultures. This being Geneva, nearly all of the dialogue is in French, although one charismatic officer vividly underlines his commands with the German "punkt, schluss!" This fellow is one of few individuals able to make much personal impact in a picture whose directors are more concerned with compiling overviews and fleeting impressions.
In the second half the focus wanders somewhat arbitrarily from the city to the countryside: Dubach and Ybarra (co-editing with Lucia Martinez Garcia) become increasingly enamoured with depopulated landscape shots of misty valleys and fog-wreathed peaks. By this stage LUX has pretty much lost sight of its original raison d'etre, the training-exercise becoming a framework and excuse for increasingly abstract and dreamy interludes — this segue perhaps intended to mimic the less-than-steely engagement of the soldiers taking part in the simulation.
These shifts are signalled (and hastened) by the steadily rising prominence afforded to the groove-funk synth-heavy score by Geneva five-piece L'Eclair: the troops' dramatic arrival into the city is accompanied by fast-paced electronica that seems stolen from a Michael Mann crime-epic. Later sonic interpolations chime more harmoniously with the increasingly experimental ambience — even if we always remain far from the rewardingly confrontational formal/structural ploys which late great German documentarist/provocateur Harun Farocki would have relished bringing to such khaki-clad simulacra.
Production company: Jeunes Sauvages
International sales: Jeunes Sauvages, Geneva (jeunessauvages@protonmail.com)
Producers: Raphael Dubach, Mateo Ybarra
Editing: Raphael Dubach, Lucia Martinez Garcia, Mateo Ybarra
Cinematography: Raphael Dubach
Music: L'Eclair
========================================================