Dir/scr: Rebecca Miller. US, 2015, 97 mins.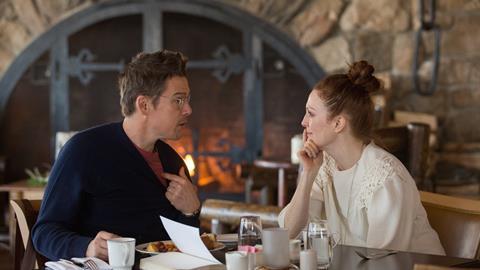 Filmmaker Rebecca Miller's dramas are often populated by volatile individuals, but what if they snuck off into a witty, rambunctious farce instead? Maggie's Plan is a conscious change-of-pace from the writer-director, and once the viewer is acclimatised to this offbeat romantic comedy's rhythms, it becomes an engaging and predictably thought-provoking yarn from a storyteller who always sees her characters as complex and often deeply flawed. This time, though, she's made their dilemmas funny.
All three leads get stronger as the movie goes along, in part because Miller's full intention isn't clear until about halfway through.
Unspooling in Toronto, Maggie's Plan should court buyers thanks to a cast headed by Greta Gerwig, Ethan Hawke and Julianne Moore. The film's urbane comedic contours will draw comparisons to Woody Allen and Noah Baumbach, certainly another selling point for upscale audiences. That said, Maggie's Plan may prove too idiosyncratic for the mainstream, which is consistent with Miller's previous indie works such as Personal Velocity.
The Maggie of the title is played by Gerwig, who has decided that she wants to have a child, even though she's had no luck in relationships. After finding a sperm donor, she meets John (Hawke), a professor and aspiring novelist. Although he's married to the severe, intellectually intimidating Georgette (Moore), John is drawn to Maggie, and she to him — and they quickly declare their love.
Maggie's Plan then flashes forward three years, revealing that Maggie and John have married and had a daughter. But as Maggie begins to worry that their relationship is floundering, she becomes friends with Georgette, which stirs a plan Maggie believes will make everyone happy.
Based on an idea from an unpublished novel by Karen Rinaldi, Maggie's Plan has the clever repartee, New York settings and modern-day malaise that are trademarks of Allen's and Baumbach's comedies. At first Miller, a novelist as well as a filmmaker, might seem to be merely copying these directors' styles, but eventually the intricacy of her construction begins to assert itself, producing plentiful rewards.
At its core, the film is about Maggie's early assertion that she doesn't want to be at the mercy of destiny, choosing to have a baby on her own rather than wait for Mr. Right. But that plan goes by the wayside once she falls for John, and Miller shrewdly suggests that they're rushing into things, the flash forward into the future not so much a happy ending as it is a new landscape where the old anxieties still linger. John Lennon once sang that life was something that happens while we're busy making other plans, but Maggie's Plan would argue that the plans we make never quite fix the problems that inspired them.
All three leads get stronger as the movie goes along, in part because Miller's full intention isn't clear until about halfway through. These characters are foolish without being idiots, which produces a more sophisticated type of comedy. Still, that doesn't mean that Moore's arch portrayal doesn't take a little getting used to. Wielding what sounds like a mutant hybrid of a German, Austrian and Danish accent, she turns Georgette into the closest thing to a caricature that Maggie's Plan has. But the Oscar-winner plays it with such confidence that Georgette becomes, if not quite a believable character, then a rollicking force of nature whose every pretentious utterance becomes a zingy delight.
By now, audiences are used to seeing Gerwig play insecure, brainy New Yorkers, but if she's merely honing her shtick in Maggie's Plan, it still has plenty of juice to it. And Hawke, again playing a struggling artist, is typecast in his own way. But note how he slowly and enjoyably becomes the movie's heel, in love with two women but too self-absorbed to get around to feeling bad about it.
Production companies: Round Films, Rachael Horovitz Productions, Freedom Media, Locomotive, Hyperion Media, Franklin Street Capital
International sales: Protagonist Pictures, info@protagonistpictures.com
US sales: Creative Artists Agency, LLewis@caa.com; Cinetic Media, John@slosslaw.com
Producers: Rachael Horovitz, Damon Cardasis, Rebecca Miller
Screenplay: Rebecca Miller, based on a story by Karen Rinaldi
Cinematography: Sam Levy
Editor: Sabine Hoffmann
Production design: Alexandra Schaller
Music: Michael Rohatyn
Main cast: Greta Gerwig, Ethan Hawke, Bill Hader, Maya Rudolph, Travis Fimmel, Ida Rohatyn, Wallace Shawn, Julianne Moore