Dir. Benjamin Ree, Norway, 2016. 76 mins.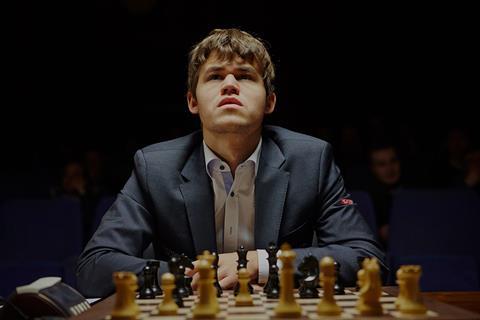 Magnus Carlsen, called the Mozart of chess, became world champion in 2013 at the age of 22. Benjamin Ree's rousing documentary shows us how this taciturn prodigy got there, and how his family keeps him sane. Chess doesn't lend itself easily to cinema, although there are some stirring exceptions, most of them involving the tortured Bobby Fischer. Taut and paced with drama at 76 minutes, Magnus is a sure-fire festival sensation.
An unforgettable scene places him, blindfolded, with his back to eight chessboards, playing eight experts at once.
Magnus, much of which is in English, also has family appeal, as a film about talent and dedication that even teenagers can enjoy. Its real berth will be on television, where it can track Carlsen's rise to stardom or play alongside sports docs. Ree's study of Carlsen is also watchable enough to withstand the rise of a new chess prodigy, which could happen tomorrow.
As much as we learn about Carlsen – which is a lot, given the cooperation of his father, who takes us through much of Ree's film – there's still a mystery at the core of his remarkable mental agility, sustaining an element of spontaneity even when we know how events will turn out.
The often-inscrutable Carlsen looks a bit like Matt Damon when he smiles and Magnus takes us back to the childhood of a boy who was bad at sports, and bullied for it, but who possessed enhanced powers of concentration that somehow shifted from assembling lego toys to surveying strategy on the chessboard.
Films about the motivating and formative power of sport or performance are everywhere. Spellbound (2002) found drama and an audience in following children to spelling bees. Dancing in Jaffa (20013) saw ballroom competitions with Palestinians and Jews in Israel as a back door (stage door?) toward tolerance. Brooklyn Castle (2012) challenged cultural prejudices with chess in the hood.
Yet Magnus isn't about role models. If it resembles an earlier documentary, that film is Keep On Keepin' On (2014), in which the serene piano prodigy Justin Kauflin, now 30, meets and jams with musicians convened by the jazz trumpeter Clark Terry. Along with daunting talent, Carlsen, like the young Kauflin, has a formidable inner strength. Whereas Kauflin is serene, the solitary Carlsen is restless and relentlessly self-critical.
In close-ups, we see that, as on the chess board, he's always several steps ahead of the people trying to figure him out. It's captivating to watch, although Ree seems to know the limits of what his film can explain.
We see Carlsen's strength tested (always by older opponents) in tournaments, which Ree edits, like sports sequences, to distill drama from two men pushing pieces around a chess board in silence. An unforgettable scene places him, blindfolded, with his back to eight chessboards, playing eight experts at once. Carlsen beats them all. It's rare that a fictional film can outdo moments like that.
While Magnus probes Carlsen's inner life and his battles to defeat the world' finest players, we don't see whether the young man has any conflict with his father, or any interest in girls. And we wonder how the reclusive kid who barely spoke became fluent in English. Eventually Carlsen gets a clothing endorsement deal, the rite of passage of any professional athlete – proof, in this case, that the superhuman is also human.
Magnus, however, peters in its last scenes towards an unsatisfying generic TV-documentary end, with smug approbation for Carlsen from the America television program 60 Minutes and a bland mention that Time magazine has declared him one of its notable 100 people. It's faint praise for a young man who reached the pinnacle of an elite competition on his own terms. By that point, the audience is too deeply involved in his story to mind.
Production companies: Moskus Film, Main Island Production, VGTV, Nordisk Film
International sales: TrustNordisk, susan@trustnordisk.com
Producer: Sigurd Mikal Karoliussen
Executive producers: Aage Aaberge, Øyvind Asbjørnsen
Screenwriters: Linn-Jeanethe Kyed, Benjamin Ree
Cinematographer: Magnus Flåto, Benjamin Ree, Øyvind Asbjørnsen
Editors: Perry Eriksen, Martin Stoltz
Music: Uno Helmersson
Featuring: Magnus Carlsen, Garri Kasparov, Viswanathan Anand