Dir: Parviz Shahbazi. 2016. Iran. 90 mins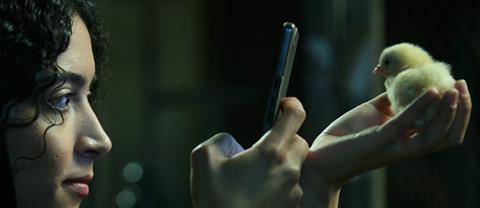 A young Iranian woman tries to buy her own freedom – temporarily at least – from the restrictions of society by fabricating her own kidnapping. But if there is one thing that we have learned from cinema about faked abductions – Fargo springs to mind – is that these things very rarely turn out well.
Shahbazi brings to the film both a distinctive scrappy aesthetic and a sense of immediacy by the extensive use of mobile phone footage
The youthful energy of the approach and feminist angle of the subject matter go some way towards mitigating the somewhat rambling storytelling here. Most attractive, both to festival programmers and to potential distributors, will be the sense of authenticity that comes from director Parviz Shahbazi's decision to shoot against the real life backdrop of Tehran's streets, capturing the spontaneous celebrations that burst forth after the signing of the nuclear agreement between Iran and the P5+1 nations. That said, the inconsistent characterisation and the spirited but uneven performances might pose a marketing challenge to anyone hoping to extend the film's journey beyond the festival circuit.
Shahbazi brings to the film both a distinctive scrappy aesthetic and a sense of immediacy by the extensive use of mobile phone footage. Despite frequent warnings to delete the clips of everyday life she steals, for fear of implicating herself and those around her, Hanna (Saghar Ghanaat) records everything on her phone. It's a small gesture of defiance – she is staking her claim a world that is technically forbidden to her.
Hanna's cover story to disguise the fact that she has hitchhiked to Tehran on a jaunt with her doe-eyed boyfriend Murry (Saed Soheili) is so precarious and naïve – and so serious in its potential ramifications for those who unwittingly help her – that it is initially hard to comprehend her thinking, or indeed to muster too much sympathy for her. Then we learn that this is not the first time she has run away. And on the previous occasion, her father doused her in petrol and attempted to set her alight. The fact that she is so desperately unhappy that she would risk the same fate again, just for a brief taste of hard won freedom, earns our sympathy for her reckless act.
We are introduced to Hanna in the same way as we take our leave of her at the end of the film – through a snippet of mobile phone footage. A pair of gloved official hands teases the evidence out of the device, and starts to piece together the events which lead to an as yet unspecified tragedy. The timeline winds back to the beginning of Hanna and Murry's adventure. After an ineffectual attempt at hitchhiking, the couple strike it lucky with a lift from laid back street musician Azi (Azarakhsh Farahani) – the film's title refers to his band's name.
It's to amiable Azi that they turn when their bed for the night, with a man who dyes newly hatched chicks pink to increase their saleability, proves untenable. But Azi's help for the runaways will chip away at the precarious situation of his own life, not least when Hanna's hot-headed father and brothers arrive on his doorstep,
The soundtrack, largely provided live by Azi and his band, is melodic and melancholy. A sequence in which they play on the streets, in front of a real audience, is infectiously exciting. The camerawork, when not using amateurish ad hoc mobile phone style, employs a jittering restless energy that echoes the attention span of a girl who lives her life through a collection of clips and soundbites.
Production company: Masoud Radaei
International sales: DreamLab Films nasrine@dreamlabfilms.com
Producers: Masoud Radaei
Screenplay: Parviz Shahbazi
Cinematography: Hooman Behmanesh
Editor: Parviz Shahbazi
Production design: Keyvan Moghadam
Music: Azarakhsh Farahani, Siavash Asadi
Main cast: Saghar Ghanaat, Saed Soheili, Azarakhsh Farahani, Azadeh Namdari