Dir: Ben Palmer. UK. 2015. 88mins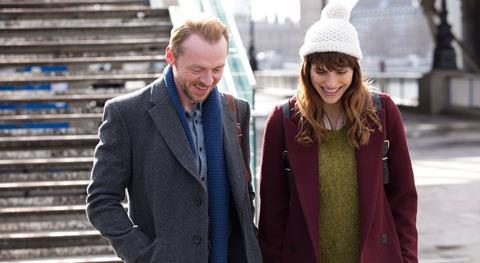 The broad, brash, and hyperenergetic Britcom Man Up isn't as half as witty or as third as smart as Lake Bell's indie voiceover comedy In a World… (2013) – which she wrote, directed, and starred in. Nevertheless, it should go a long way towards endearing the multi-talented American hyphenate's evolving screen persona to mainstream moviegoers on both sides of the pond.
Such is Bell's genius for mimicry, British viewers who've never previously heard or seen her will be astonished to learn the actress speaking in a neutral suburban London accent is a New Yorker.
The tale of a London blind date that goes doubly awry, this Tribeca-showcased farce was transparently crafted as a noisy, party-centric crowd-pleaser by first-time scripter Tess Morris and The Inbetweeners Movie director Ben Palmer. Its lack of finesse will be no impediment to it becoming a sizeable British hit when StudioCanal opens it on 29th May (it was picked up after its Tribeca world premiere by Saban Films for the US). Man Up should succeed overseas, too, though foreign-language subtitlers will be flummoxed trying to condense the neo-screwball banter – especially the rapid-fire verbiage spewed by leading man Simon Pegg – into pithily-worded arguments, evasions, confessions, and declarations.
This time out, Bell plays a more exaggerated (nearly out-of-control) version of the late-blooming, love-starved singleton who is unhappily growing into the role of goofy wallflower. Far too attractive to be described as an ugly duckling, 34-year-old Nancy is the kind of overcompensating wannabe girlfriend who tells too many oral sex jokes and whose body language can't conceal her desperation. She's a more exuberant, less whiny and aspirational, and slightly downmarket Bridget Jones. Such is Bell's genius for mimicry, British viewers who've never previously heard or seen her will be astonished to learn the actress speaking in a neutral suburban London accent is a New Yorker.
On a train to Waterloo, Nancy gets into conversation with lisping goody-goody Jessica (Ophelia Lovibond), who gives her a romantic self-help book, actually the talisman which would have identified her to the man she'd planned to meet under the station clock. As Jessica hurries off to buy a replacement book, fortyish Jack (Pegg) spots the original in Nancy's hands and assumes she's his date. She impulsively decides to pretend she is.
While his nervous chatter is initially tinged with the kind of shallow bonhomie associated with Ricky Gervais's characters, Jack starts to relax in the company of the charming impostor. As they traverse London's garishly lit-up tourist spots, they start to fall in love. They're having an uproarious time at a bowling lane (as conveyed in a brisk montage) when Nancy is spotted by old classmate Sean, who threatens to blow her cover unless she pays him off with sex (quickly traded down to a kiss). Rory Kinnear's portrayal of this high-voiced, terminally adolescent lech isn't subtle, but it's the movie's biggest hoot.
Jack chastises Nancy for her deception when the truth emerges, but is soon caught pulling the wool over her eyes. He arranged the date (albeit not with her) to impress his snide soon-to-be ex-wife (Olivia Williams, adding a touch of class) and her bland lover (Stephen Campbell Moore) at an "accidental" encounter he's contrived with them. Nancy gamely, if crudely, convinces the staid couple that she and Jack are still at the "porno-land" stage of their affair.
Their mutual coming-to-terms with their individual loser-dom – a point of identity for thirtysomething audience-members – paves the way for the inevitable ending. Unwilling to let Man Up get too serious, however, Palmer and Morris quickly dismiss the relationship blues by having Nancy recall her indignation at being de-authorised from her ex-lover's iTunes. Soon after, she belatedly heads off alone to give a speech at the fortieth wedding anniversary party her happily married sister has organized for their parents (Harriet Walter, Ken Stott). Realizing he can't let Nancy get away, Jack enlists Jessica, Sean, and dozens of partying teenagers to help him find her.
There are a few juicy sight gags in Man Up, though it clearly wasn't the occasion for Palmer to demonstrate if he has an eye for imaginative visual storytelling, beyond the Scorsese-derived extended dolly shots that bookend the film. In focusing on Bell's flamboyant performance and moving the action along at a frenetic pace, he did what was required here in making a rowdy, infectious entertainment.
Production company: Big Talk Productions
International sales: www.studiocanal.com
Producers: Nira Park, James Biddle, Rachael Prior
Screenplay: Tess Morris
Production design: Dick Lunn
Cinematography: Andrew Dunn
Editors: Paul Machliss
Music: Dickon Hinchcliff
Main cast: Lake Bell, Simon Pegg, Rory Kinnear, Olivia Williams