Dir/scr. Kenneth Lonergan. US, 2015, 137 mins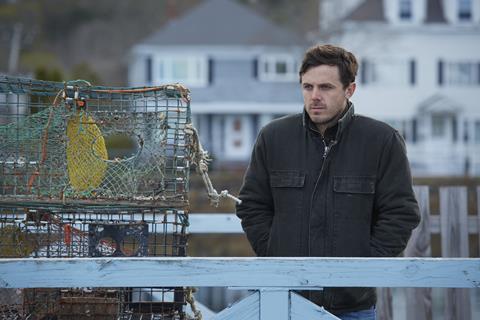 Manchester By The Sea is a meticulous, rich film: there's such a depth to this story of a man living with unbearable grief, a sense of time and place and the changing of the seasons, you feel you could almost touch it. Kenneth Lonergan's deeply moving return after the travails of Margaret shows what a rare storyteller he is, measuring out his narrative beats in a world which crackles with life, guiding Casey Affleck's magnificent performance, instantly recognisable as a career-best.
Affleck's performance is haunting, a face of grief and anger the viewer will never forget
Parallels will be drawn to Ordinary People, and it's a nice passing of the guard that Manchester By The Sea premiered at the Sundance Film Festival, established by the director of that Oscar-winning film. And clearly Manchester is a prestige picture which could be an awards contender in the same way, given nuanced marketing and keen avoidance of hype. Whatever its commercial fate, and it's a sad reality that grosses for a slow-burning, 137-minute film could end up being slight, Manchester By The Sea is already an artistic success, with its combination of mesmerising, sprawling drama and authentic characters and dialogue.
While Affleck is front-and-centre as the brutally-damaged Boston janitor Lee, this is also an ensemble piece as the characters gradually reveal themselves in a delicate, carefully measured narrative. Its story is best told by the film-maker, with the real revelation only coming around the one-hour mark. From the get-go, however, we can see that Lee is isolated and angry, possessed of a trigger temper which seems always on the brink of explosion. When he's notified of his brother's death, there's a such huge bank of pent-up grief to the man it manifests itself in his very gait; we know there's more to the story, and Lonergan shows his cards in gradually-mounting flashbacks.
These are discreet cuts to the past, not marked by dramatic changes in colour palette or music. One moment the viewer is in the present, the next, mired in history, much like the film's protagonists. Manchester's very opening shots establish a fishing trawler, with Lee, his brother Joe (Kyle Chandler), and his young nephew on board, but now the boy has grown up to become 16-year-old Patrick (Lucas Hedges, also impressive). As Lee reluctantly stays on in the town of Manchester By The Sea and the close-knit community he has abandoned to arrange Joe's funeral, more facts slowly emerge. He was once married to Randi (Michelle Williams). Joe's ex-wife Elise (Gretchen Mol) was an alcoholic. Lee and Patrick are alone. People talk about him.
This is a film about life and pain in which there are no pat answers. As the resolutely working-class characters struggle through their circumstances – young Patrick only wants to carry on as before, while Lee needs to escape – there's a sense they're simply doing their best. Lonergan the scriptwriter has a real ear for dialogue and rhythm, and it's easy to enter their world. He shrugs off obvious resolutions in favour of messy, hurtful, reality.
Design and cinematography are excellent. Boston's harsh winters and the beauty of this fishing inlet are married together in visuals which snap with the frost and chill. The score can tend towards the operatically overwrought, a slightly jarring note (Albinoni's Adagio in G Minor is enough to contend with in a pivotal scene without doses of Handel and Bach's St Matthew's Passion, although the film-maker indicated post-Sundance screening that these choices might yet change). Yet sound design, particularly in a breakfast scene where Lee is telephoning the funeral parlour, bristles.
Casey Affleck's performance is haunting, a face of grief and anger the viewer will never forget, but, as Patrick, Lucas Hedges also strikes the right notes of a teenager trying to hold on to what little he has left, whether that be his band practice, hockey game, two girlfriends, or the uncle who is clearly struggling to cope with him. (A sequence, featuring Lonergan regular Matthew Broderick, where there's an attempted reconciliation with Patrick's mother doesn't quite come off, but it's a rare dramatic mis-step.) Michelle Williams has a devastating scene with Affleck towards the end of this film, a reminder of how great she can be with the right project and screen partner.
Production companies: Pearl Street Films, the Media Farm, K Period Media, the A Middleton Project.
International sales: Sierra/Affinity
Producers: Matt Damon, Kimberley Steward, Chris Moore, Lauren Beck, Kevin J. Walsh
Executive producers: Josh Godfrey, John Krasinski, Declan Baldwin, Bill Migliore
Cinematography: Jody Lee Lipes
Production design: Ruth De Jong
Editor: Jennifer Lame
Music: Lesley Barber
Main cast: Casey Affleck, Michelle Williams, Kyle Chandler, Lucas Hedges, Heather Burns, Tate Donovan, Matthew Broderick, Gretchen Mol, CJ Wilson