Nawazuddin Siddiqui puts in an impressive central performance as writer Saadat Hasan Manto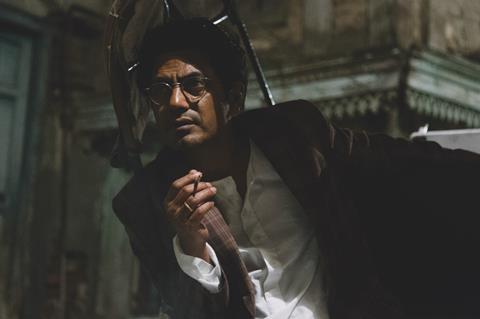 Dir: Nandita Das. India. 2018. 113mins
Nandita Das' sophomore directorial outing, following 2008's award-winning Firaaq, is a hugely ambitious undertaking, both in terms of its scale – it boasts a period setting and multiple locations, teeming with extras – and its scope. Through the story of celebrated writer Saadat Hasan Manto, Das explores the birthing pains of two new nations, post partition. It's a handsomely mounted prestige piece, but the problem of an overly expository script is compounded by a slightly choppy quality, which may or may not be intended to evoke the lean economy of Manto's short stories.
Always impressive, Nawazuddin Siddiqui is as commanding presence as Manto
The film's most receptive audience will be in territories in which actress/filmmaker Manto's work is best known. Elsewhere it may struggle to find a niche. High quality but traditional in its approach – at odds, perhaps, with the bold, confrontational spirit of Manto's writing – the film's solidly middlebrow sensibility doesn't provide much in the way of selling points for distributors in territories where the writer himself is not a hook.
In the title role, Nawazuddin Siddiqui (Gangs Of Wasseypur, The Lunchbox) is convincingly tortured as a writer whose determination to give authentic voices to the voiceless landed him repeatedly in court on charges of obscenity. Das deftly weaves Manto's literature into fabric of this account of four years of his life. The dramatised tales – of child prostitution, of violent pimps and jealous lovers – take moments from Manto's own life as jumping off points.
Starting, full of optimism, in 1946, the story opens in a Mumbai which is about to be released from the yoke of British rule. From within Manto's cultured social circle – he is a member of the Progressive Writers' Association – the future looks full of opportunity and promise. But there are rumblings of discord and divisions. Manto, a non-practising Muslim, has previously not given much thought to religious differences.
One day, in a car with his Hindu friend Shyam (Tahir Raj Bhasin), a movie actor, Manto realises that they have strayed into the Muslim quarter of the city. And to his surprise and horror, he feels terror on behalf of his friend. But it is not until later, after a rising tide of violence against Muslims and a throwaway comment by Shyam, that Manto makes the decision to leave the city he loves and move to Lahore. But this self-imposed exile hits him hard. And as his wife Safia (Rasika Dugal) looks on with a combination of anguish and irritation, he sinks into self-absorption and alcoholism.
Das has assembled a first-rate crew, with Rita Ghosh's atmospheric production design a particular stand out. The contrast between the well-appointed privilege of life among Mumbai's literary elite and the blighted, scarred streets of Lahore is stark. It mirrors the change in Manto's increasingly embattled state of mind. Always impressive, Siddiqui is as commanding presence as Manto, particularly in an extended courtroom sequence in which the writer defends himself against the latest accusations of moral failure. The story at the centre of the court case, Cold Meat, is enacted on screen with an unflinching candour which is arresting, but jars tonally with the rest of the film.
Production companies: Nandita Das Initiatives, Filmstoc, HP Studios, Viacom 18 Motion Pictures
International sales: Radiant Films International mike@radiant-films.com
Producers: Nirang Desai, Sameer Dixit,Jatish Varma
Screenplay: Nandita Das
Production design: Rita Ghosh
Editing: Sreekar Prasad
Cinematography: Kartik Vijay
Music: Sneha Khanwalkar
Main cast: Nawazuddin Siddiqui, Rasika Dugal, Tahir Raj Bhasin