Dir Brillante Mendoza. Philippines. 2016. 110mins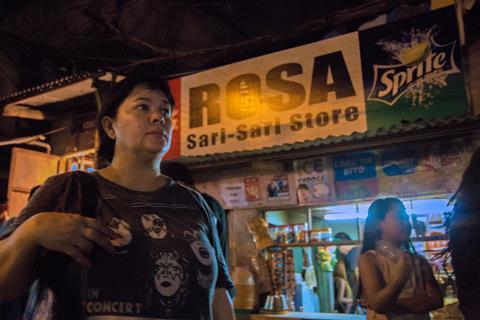 Brillante Mendoza is one of the Marmite figures in world cinema; a director whose films are just as likely to be met by cold indifference as they are to receive top prizes at the main festivals. Ma'Rosa feels like one of his more accessible features at it focuses on a Manila family trying to find the wiggle room in a situation that seems destined to end with both parents in jail for dealing drugs. The aesthetic may be very different, but there are echoes of the Dardenne brothers Two Days, One Night (2014) as the passing of time piles on the pressure to achieve a resolution.
The poor have no options, morals are a luxury that few can indulge and the importance of blood ties cannot be overstated.
Whether the impression of greater accessibility can be translated into a bigger commercial life for Mendoza is a moot point. Ma' Rosa is atmospheric and involving to a degree but also feels as if we are in familiar territory.
Mendoza continues to be a filmmaker who shines a light into the dark corners of otherwise unreported lives. Ma Rosa offers a bleak portrait of the poverty and corruption in the Philippines as we witness chaotic, shanty town streets teeming with people and strewn with rubbish and a society in which only the most ruthless can survive. Rosa (Jaclyn Jose) runs a small shop with her husband Ernesto (Andi Eigenmann) and has taken to selling drugs as a means of supporting their family.
On the eve of her husband's birthday, the police arrive and arrest the couple. There is ample evidence for a conviction but this is a country where such charges can disappear if the right price is paid. The pressure on Rosa to provide the police with the name of her supplier and then to add a financial sweetener beyond her means eventually spreads to the rest of her family. Her sons and daughter are obliged to beg, sell possessions, sell his body in the case of one son and make countless sacrifices in the race to muster together sufficient funds to keep the police at bay.
Their efforts reflect a society in which the poor have no options, morals are a luxury that few can indulge and the importance of blood ties cannot be overstated.
Jaclyn Jose cuts an imposing figure as Rosa, a bustling, no nonsense woman who is known throughout her neighbourhood. She is the force of nature who keeps the family together. She remains the heart of the story. and it is a compelling enough tale but just when you should be feeling the unbearable tension of what is at stake Ma'Rosa seems take a breath and surrender its intensity. Working with some of his regular collaborators, Mendoza ensures that the jittery camera darts and dodges through the sodden city streets or the cramped confines of the police station, slipping in and out of focus and capturing some sense of the daily battle for survival in a city where betrayal is second nature and everyone has to do whatever it takes to get through another day.
Production companies: CenterStage Productions
International sales: Films Distribution info@filmsdistribution.com
Producer: Loreto Larry Castillo
Screenplay: Troy Espiritu
Cinematography: Odyssey Flores
Editor: Diego Marx Dobles
Production design: Dante Mendoza
Music: Teresa Barrozo
Main cast: Jaclyn Jose, Andi Eigenmann, Julio Diaz, Mark Anthony Fernandez