Jack London's seminal novel is transferred to mid-century Naples by the director Pietro Marcello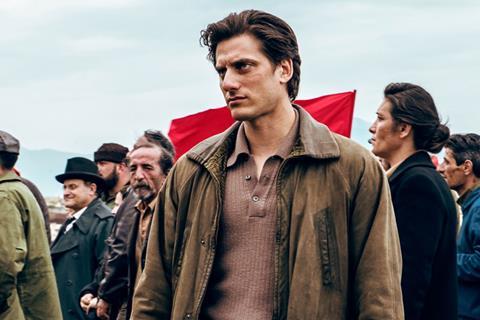 Dir: Pietro Marcello. Italy/France. 2019. 129 mins
Known for making unclassifiable arthouse documentaries that hover somewhere between reality and a cinematic fugue state, and one equally strange and lovely fictional film called Lost And Beautiful, Italian director Pietro Marcello finally embraces a larger budget and more linear narrative in this adaptation of a 1909 novel by 'Call of the Wild' writer Jack London. London was one of the first literary celebrities of the modern era, and Martin Eden was his bildungsroman, the story of a penniless, unschooled Californian sailor's determination to make it as a writer.
A classic downbeat hero's journey with a nicely played fast-forward final section
Relocating the action to Naples and the period to a 20th century amalgam centred somewhere in the late 1960s, Marcello and his committed, compelling lead actor Luca Marinelli deliver an always watchable take on the hoary old story of the struggling artist that is more interesting in its shape-shifting style and texture than in its rather conventional dramatic core. Winning Toronto's Platform section after a nod for Best Actor at Venice, Martin Eden can expect a decent prestige theatrical run in its two co-production territories of Italy (01 Distribution from 4 September) and France (Shellac from 16 October). Further sales were announced after Toronto including Kino Lorber for the US.
Non-Italian audiences will miss the constant shifts between Neapolitan dialect and 'proper' Italian that are part of the fabric of a film with a rich and varied audioscape, in which conflicting ideas of self-betterment and class loyalty vie for our attention. But it's easy enough for all to see that Marinelli's ungainly twenty-something Martin Eden is a fish out of water when he is invited home by Arturo Orsini, a young man he saved from a beating down by the port, who comes from the sort of well-to-do haut-bourgeois family that Martin is clearly not used to spending time with.
There, amidst the polished furniture, with a confusing array of cutlery to choose from, Martin meets Arturo's sister Elena (Jessica Cressy), a delicate, closeted hothouse flower. It's love at first sight for the impetuous sailor, not so much for Elena, who sees this charming but uncouth prole as a wild man to be tamed with culture. Martin's up for that: he takes to book-learning the same way he mops up his pasta sauce at the Orsini dinner table, with undisguised appetite.
What follows is a classic downbeat hero's journey with a nicely played fast-forward final section, as we follow Martin through a hardscrabble life of taking on menial jobs, or simply going hungry, in order to write stories and poems that are consistently rejected by the magazines he mails them to. Turfed out by his crass shopkeeper brother-in-law, he moves into cheap lodgings on the countrified outskirts of Naples with kindly widow Maria (Carmen Pommella) and her kids, all the time writing long letters to Elena. If she has by now fallen under his spell romantically, this prim daughter of the bourgeoisie also makes it clear, like so many of those around him, that she sees her lover's writing as a waste of time: surely the whole point of cultural betterment is that it allows you get a good job and settle down?
Only Russ Brissenden (Carlo Cecchi) a rich, jaded, ailing flaneur with a drink problem and a radical-chic belief in the tenets of socialism, encourages Martin to resist such middle-class attempts to turn genius into mediocrity. Meanwhile, working-class beauty Margherita (Denise Sardisco), as carnal as Elena is ethereal, waits in the wings for Martin to return to her.
Haircuts, telephones, trains, cars and the second-hand Olivetti typewriter Martin uses to write place us squarely in postwar Italy, but other signals (especially costumes) shift the timescale. A meeting of striking workers that Russ and Martin attend seems much closer to the early 20th century setting of London's novel, a world captured right at the beginning of the film in eroded nitrate footage of a 1920 rally addressed by Italian anarchist Errico Malatesta. Like London's Eden, Martin is fired up by the social Darwisnism of the now largely forgotten philosopher Herbert Spencer, and espouses a creed of radical individualism that has a lot in common not so much with anarchists like Malatesta but with today's neo-con libertarians.
The director overplays his hand in a questionable symbolic ending, a ham-fisted attempt to connect the world of London's book with the rising racial intolerance on view in the Italy of Matteo Salvini. It's a shame, because Marcello is a mostly undogmatic director whose talent for creating rich visual and musical weaves around enigmatic storylines has by no means abandoned him in a film that achieves, here and there, a lyrical fusion of past and present while celebrating the vitality of working-class Naples.
Production companies: Avventurosa, IBC Movie, Rai Cinema
International sales: The Match Factory, info@matchfactory.de
Producers: Pietro Marcello, Beppe Caschetto, Thomas Ordonneau, Michael Weber, Viola Fügen
Screenplay: Maurizio Braucci, Pietro Marcello
Production design: Tiziana Poli
Editing: Aline Hervé, Fabrizio Federico
Cinematography: Francesco Di Giacomo, Alessandro Abate
Music: Marco Messina & Sacha Ricci, Paolo Marzocchi
Main cast: Luca Marinelli, Jessica Cressy, Denise Sardisco, Vincenzo Nemolato, Carmen Pommella, Carlo Cecchi