Dir: Christopher Guest. US. 2016. 94mins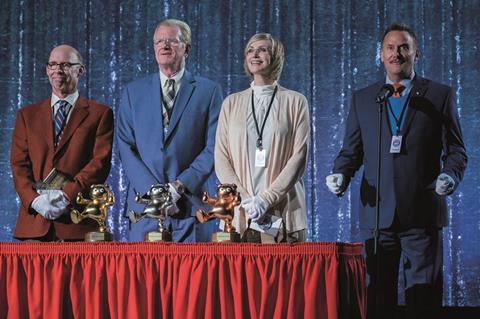 Amusing without ever being uproarious, director Christopher Guest's latest mockumentary is full of reliable pleasures and silly laughs, but it also shows signs of a formula that's not as fresh as it once was. Looking at some predictably kooky characters who are all angling for the top prize at a mascot competition, Mascots will mostly remind viewers of Guest's earlier, funnier film about a similar milieu, Best In Show.
There's an undeniable comfort in watching Mascots, which brings back many of Guest's usual acting troupe to perform their usual antics
Mascots will stream on Netflix starting October 13, concurrent with a theatrical release. Guest's fans will obviously want to tune in, but polite reviews may not be enough to attract the uninitiated to his brand of dry, improv-heavy comedy.
The film takes place as the eighth annual mascot competition is about to get underway in Anaheim, California. Guest introduces us to some of the finalists, which include a bickering married couple (Zach Woods and Sarah Baker), a brawling Canadian named Zook (Chris O'Dowd) and Cindi (Parker Posey), a pretentious modern-dance aficionado. All of them converge on Anaheim, where a panel of judges (highlighted by a born-again former mascot, played by Jane Lynch) will select the winner.
There's an undeniable comfort in watching Mascots, which brings back many of Guest's usual acting troupe to perform their usual antics, playing the same sort of self-deluded nitwits they've portrayed in his previous movies. From its structure to its mixture of mocking humour and gentle sweetness, the film travels down a recognisable path, never quite catching us off-guard. (Adding to the sense of déjà vu, Guest reprises his Waiting For Guffman character Corky St. Clair.)
Not surprisingly, then, the movie's comedy tends to be lightweight and somewhat hemmed in by the audience's familiarity with Guest's well-worn style. Even then, though, a gifted actor like Fred Willard continues to find new ways to be obtuse and offensive, playing a mascot coach with a knack for giving incredibly unhelpful advice when he's not just insensitively insulting people. That natural talent is crucial considering that Mascots' characters, from a script written by Guest and Jim Piddock, aren't particularly well-drawn, requiring the actors to bring their all to help liven them up.
As is often the case with Guest's comedies, Mascots does good work in pinpointing what is most fragile about its protagonists — and then finding a way to turn it into humour. One of the competition's celebrity judges, played with trademark fussiness by Ed Begley, Jr., becomes annoyed when he learns that he's actually not the most famous of the judges — that honour going to Lynch's Gabby Monkhouse — and the movie exploits his slow-burn humiliation in nice, small ways.
There are plenty of solid laughs in Mascots — everything from jokes about furries to throwaway bits involving obscure cable channels — but what's disappointing is that there's not a great overr-iding idea that ties all the gags together. In movies like Best In Show, Guest tapped into the clever notion that dog owners relate to their pets on a profound level, practically sharing the same personality. Mascots capitalises on the inherent goofiness of watching adults in big, ridiculous costumes, but Guest doesn't have any deeper comedic insight. As a result, his latest feels especially episodic and hit-or-miss, a loose collection of jokes in search of a driving force.
That said, Posey is a modest delight as this highfalutin dance lover. Guest's movies often encourage us to laugh at his foolish characters, but they're at their best when the actors give us a reason to respect these people's bizarreness. That's what Posey does with Cindi: She's a hopeless fool, but her unbridled commitment to her strange passion makes us love her anyway.
Production companies: Ra Ra Productions
Worldwide distribution: Netflix, www.netflix.com
Producers: Karen Murphy, Ted Sarandos
Executive producers: Pauline Fisher, Sarah Bremner, Ben Ormand, Jim Piddock
Screenplay: Christopher Guest & Jim Piddock
Cinematography: Kris Kachikis
Production design: Kristian Kachikis
Editor: Andrew Dickler
Music: CJ Vanston
Main Cast: Carrie Aizley, Sarah Baker, Bob Balaban, Ed Begley, Jr., Tom Bennett, Maria Blasucci, Jennifer Coolidge, Matt Greisser, Christopher Guest, Kerry Godliman, John Michael Higgins, Michael Hitchcock, Don Lake, Jane Lynch, Christopher Moynihan, Chris O'Dowd, Parker Posey, Jim Piddock, Fred Willard, Brad Williams, Zach Woods, Susan Yeagley