Maria Vazquez plays a single mother in Galicia whose life is constantly on the edge of falling apart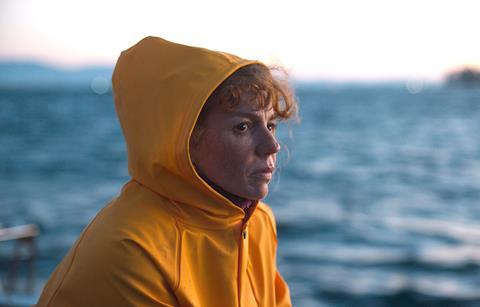 Dir: Alvaro Gago. Spain. 2023. 99mins
The trials and tribulations of a 40-something single mother in a coastal town in northwestern Spain are subjected to the rigorous and compassionate gaze of director Alvaro Gago in his intense, Galician-language slice-of life feature debut Matria, which translates as 'motherland'. (It's worth noting that, unlike its masculine equivalent 'patria', which means 'fatherland', the word does not appear in the official Spanish dictionary.)
Anyone looking for a plucky, against-the odds storyline told through the eyes of a victim of injustice has come to the wrong place
A development of his same-name short, which won the 2018 short film Grand Jury Prize at Sundance, Matria is all about its protagonist, and star Maria Vazquez delivers. Perhaps inevitably at full length, the script feels somewhat less sure-footed and focused. That said, the Sundance connection and the script's profoundly empathetic portrayal of a woman who it refuses to pitch as a mere victim seems likely to ensure further festival play.
Spiky, streetwise and self-destructively impulsive, 42-year-old Ramona (Vazquez) works for a cleaning agency, moonlighting aboard a mussel dredger. Her partner Andres (Santi Prego) does little more than knock back beers for breakfast, demand sex and complain about her stealing his chocolate; her daughter by a previous marriage, Estrella (Soraya Luaces), is living away, abandoning her studies for an unsuitable boyfriend.
Ramona's life is continually on the edge of falling apart. When she and her agency colleagues are told that they'll have to take a wage cut, she storms straight out, finding work as a carer for elderly widow Xose (E.R. Cunha "Tatán"). After initial tension caused by his old-fashioned machismo, they settle into the closest thing to a healthy relationship that Ramona can hope for.
Anyone looking for a plucky, against-the odds storyline told through the eyes of a victim of injustice has come to the wrong place. One of the key virtues of Matria is that Ramona is fallible and self-destructive. Exuberant and happy when she wants to be, there is a line of bitterness running through her which, when combined with her impulsiveness, constantly leads her into more trouble that she then has to claw her way out of. Ramona is both wonderful and appalling, and Vazquez's edgy performance drags us entirely into her relentless, thoughtless world, with her flaming red hair, her smoker's cough, her gravelly tones and her unfailing ability to bring joy and despair to those around her.
Perhaps the most enthralling thing about the short from which Matria was developed is its frenetic intensity; edited by Gago himself, it sees a much more muted Ramona zooming around the different areas of her life on her bicycle, just about keeping things together. Some of that is lost in the feature version, although the tone is unfailingly true-to-life. Some scenes are special, particularly those in which her relationship with Xose edges uncertainly forward, but others feel flabby. Given that motherhood frames all that is taking place, Ramona's on-off relationship with Estrella becomes wearisome, ending in a scene that feels just as uncertain as its heroine.
Matria is also a vibrant, authentic record of life in a rainy Galician coastal town, a place where the women are continually spraying themselves with water to remove the smell of fish, where the chat inevitably turns bawdy and where most of the men are apparently still living in the Paleolithic Age. Space is also made, meanwhile, for a couple of Ken Loach-style digs at the absurdities of capitalism, as when Ramona is asked questions by an employment agency "for our database", and when she confronts a phone provider who needs to see a death certificate to cancel a contract.
Cinematographer Lucia C Pan is back from the short, and her Intimate framing captures the details of Ramona's messy existence, later pulling back as her calming and unexpected relationship starts to settle down.
Production companies: Matriuska, Avalon, Elastica Films, Ringo Media
International sales: New Europe Film Sales, kat@neweuropefilmsales.com
Producers: Daniel Froiz, María Zamora, Stefan Schmitz, Mireia Graell Vivancos
Screenplay: Alvaro Gago
Cinematography: Lucia C Pan
Production design: Melania Freire
Editing: Ricardo Saraiva
Music: Patricia Cadaveira, Marcel Pascual
Main cast: Maria Vazquez, Santi Prego, Soraya Luaces, ER Cunha "Tatán", Susana Sampedro